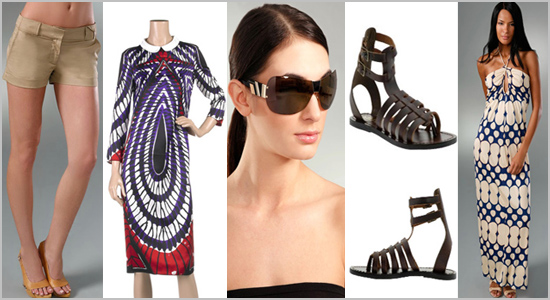 Trend #1: Who wears short shorts?
Whether you're supermodel tall or a petite PYT, short shorts make bold summer statement. Hello world, look at my gams! Shorts can be dressed up with platform wedges for a midsummer night date or made causal with sneakers for weekend errands. Discretion is the key. Skip the job interview or the church pews with this trend.
Elizabeth and James Undercover Short
, Shopbop
Trend #2: Going Hollywood
Oversized sunglasses always make me feel like the paparazzi should be following me (even though they never are). Live out your own tabloid fantasies with this classic diva's accessory. Play with bright colors or stick to staples like white, tortoise shell and black. No rehab required.
Marc Jacobs Sunglasses Wraparound Sunglasses
, Shopbop
Trend #3: Take your sundress to the floor
Everyone knows that one of the easiest ways to stay cool is in a dress. Hemlines have plummeted and this season's hottest sundresses are floor length. It's comfortable, it's easy and most importantly it's chic. Best worn with a beautiful print in a breezy fabric, a long sundress makes any summer soiree worthwhile.
Diane von Furstenberg Novesa Long Dress
, Shopbop
Trend #4: Gladiator ready?
Ancient Rome is relevant once again. The super strappy, flat sandal known as the gladiator style has fast become a warm weather no-brainer. Shoes sans heel are always a consolation for your feet. You might ruin a fresh manicure fastening the multiple buckles, but stepping out of your chariot never looked so good.
Mia Rome
Gladiator Sandal, Piperlime
Trend #5: Back to Africa
Tribal patterns, khaki suits and bold, chunky jewelry bring the motherland to mind… mine at least. This trend is all about incorporating aspects of African culture in prints, textures and shapes. Explore your suburbs in a belted safari jacket. Romance your lion king in a tribal printed sundress. Whatever you wear, do it with grace and pride, like an African queen would do.
Miu Miu Silk print dress
, Net-a-Porter