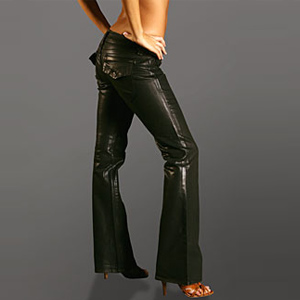 Is your body too 'bootylicious' for regular jeans?
Then slip on a pair of Sheiki Jeans. Designed to fit the natural curves of a woman's body, Sheiki Jeans are sexy but classy and made to fit all body types. The brand combines 'American fashion ingenuity with European flair', and the 'Chantall Ltd' is the perfect example of that. The 5 pocket, black shiny coated denim looks liquid against the body, but feels soft and comfortable inside. The leather look offers up loads of sex appeal but with the comfort and precise fit of premium denim.
Sheiki's bringing sexy 'back'.
$385, Sheiki Jeans