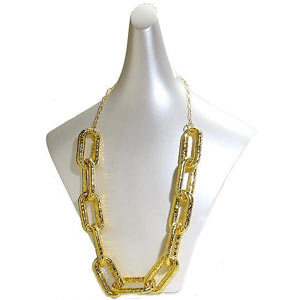 Precious metal plus exotic animal equals one prized possession.
The Python Chain Link Necklace from Ted Rossi is a luxury lover's delight. Gold python skin is tightly wrapped around oversized 14K gold filled chain links. At 25" long, this necklace works well with all facets of your life.
Pair it up with a high–necked top, tailored pants, and tight bun: your professional façade.
Wear it with a crisp oxford shirt and clean cut khakis: your informal weekend fab.
Rock it with a cleavage baring minidress: your exuberant evening air.
The perfect piece for the woman with many lives to lead.
$375, Ted Rossi