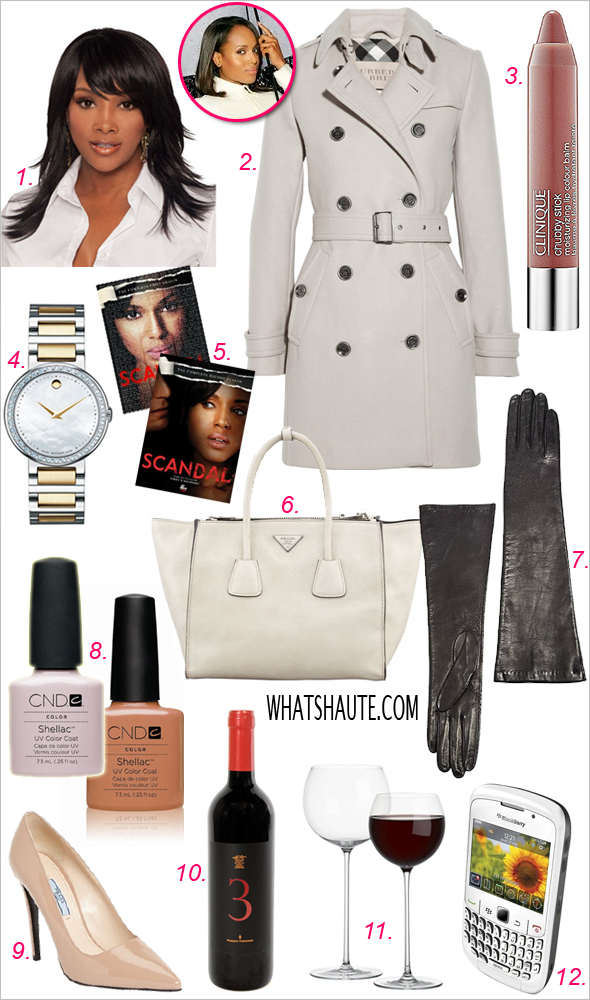 Ever since it first debuted, 'Scandal' has been my Thursday night must-see TV obsession, as it is for most people I know. I don't remember what I did on Thursday nights before 'Scandal'! And now that the show is on a two-month break, I think I can speak for my fellow 'gladiators' in asking "What in the world are we going to do?!" If you're not watching 'Scandal', let me tell you – you are missing out! Each and every episode is a roller coaster ride full of drama, emotional twists and turns, and lots of scandalous behavior! And of course, there's my favorite thing – fashion – expertly tied into each week's plot.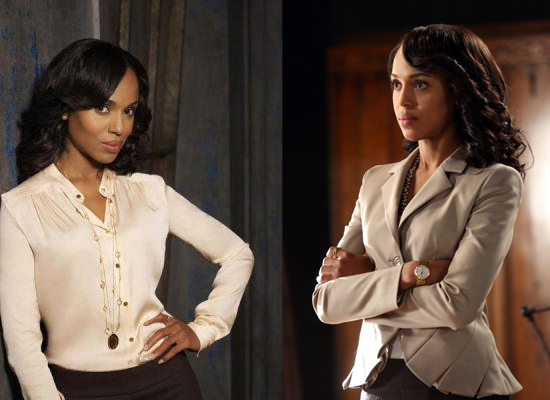 I won't delve into the storylines of the series (you can read these recaps for that) but the fashion is something to be desired. Costume designer Lyn Paolo dresses Kerry Washington (as Olivia Pope) in the way you'd expect a Washington powerbroker to dress – in crisply tailored power suits and an enviable collection of structured trench coats and jackets (from the likes of Gucci, Burberry and Ann Demeulemeester), mostly in white and neutral tones. Plus she accessorizes her with a covetable designer tote (Prada and Celine are her favorites), classic pumps and most recently, sleek leather opera gloves via Dorothy Gaspar!
What Olivia Pope's wearing/using/drinking has become just as important and noteworthy as the plots themselves! So because of that, I've put together a shopping guide of holiday gifts for the Scandal lover, inspired by what Olivia wears/uses on the show, plus a few fun extras! Get into it!
1. Get Olivia Pope's Farrah Fawcett-style 'do with this Merle by Vivica Fox wig. It's made of human hair so you can style with or without that side bang. (Olivia's power strut not included.)
2. Olivia's outerwear wardrobe is off the chain and she proves you can't go wrong with a neutral coat like this Burberry Brit Mid-length wool-blend trench coat.
3. To complement Olivia's wardrobe, Denise Hooper, Scandal's makeup department sticks with natural color cosmetics, like the Clinique Chubby Stick Moisturizing Lip Colour Balm in Whole Lotta Honey.
4. To accompany all of her other luxe accessories, Olivia recently has been sporting the Movado Ladies' Concerto Two-Tone Diamond Watch.
5. What 's the perfect way for us 'gladiators' to fill our empty Thursday nights for the next two months? By catching up on previous seasons of 'Scandal', of course! Get Scandal: The Complete First Season (2012)
and Scandal: The Complete Second Season (2013)
on DVD.
6. Olivia's been carrying a neutral-hued bag that has now become a new 'It' bag: the Prada Glace Calf Twin Pocket Tote Bag, Off White (get the suede version here)
7. Olivia and her mom Maya are bringing back elegance in outerwear by donning Opera-length Leather Gloves.
8. CND manicurist Lisa Wong created a signature nail polish shade for Olivia by combining CND Cosmetics Shellac Cocoa
layered with CND Cosmetics Shellac Romantique
.
9. Every career woman needs a pair of nude pumps in her life, like these Prada Pointy Toe Pumps.
10. Olivia likes to unwind after a long day (which is EVERY day for her) with a glass (or three) of red wine, like this 2009 PoggioVerrano 3 Red Blend (part of the A Taste of Italy TRIO).
11. And she drinks it out of these Crate & Barrel Camille Wine Glasses.
12. It's Olivia's job to fix crises, including personal ones, so she uses multiple phones for work and play (including a special phone just for Fitz). This BlackBerry 8520 Smartphone in White is one of her faves.
Which gifts will you be getting for the Olivia Pope/Scandal lover/gladiator in your life?