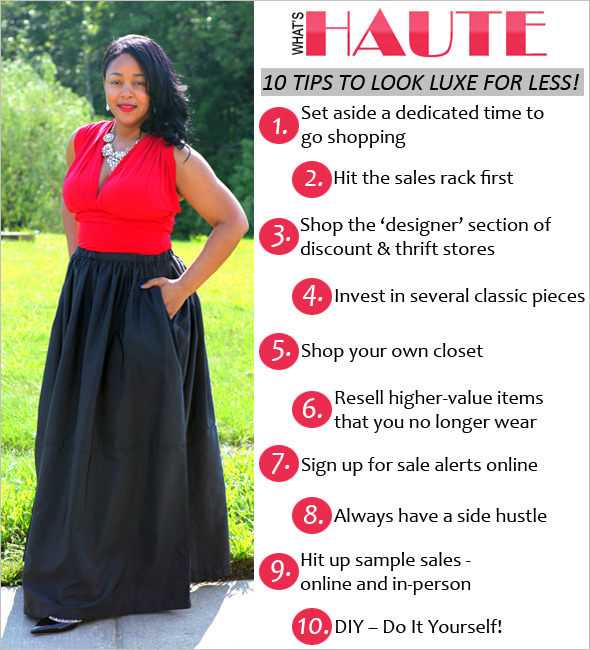 When I was eight years old, I bought my first designer bag from a flea market – for a steal! I knew early on that I loved fashion and shopping but would have to get creative when it came to getting the things I wanted since we were by no means wealthy. So I hit up flea markets and discount stores to find or recreate looks I saw in my favorite magazines. And when I was old enough to work, I got part-time jobs at stores I loved to get clothing discounts, and started my own small businesses to be able to afford the things I wanted. Even now that I can afford all of the things I want, (and also get a lot of free stuff, thanks to being a fashion blogger), I still find myself adhering to the same shopping principles I did when I was a child/high school student/college student/grad school student on a tight budget!
Here are my top 10 tips to help you look luxe – for less:
1. Set aside a dedicated time to go shopping
It's always better to have a plan than to impulse shop, so you don't end up buying things you didn't really want or need or spend more money than you anticipated. If you set aside a dedicated time to go shopping, you're less likely to grab those impulse buys, plus you'll have ore time to sift through the racks and find the 'gems'!
2. Hit the sales rack first
The sales rack is often in the back of the store and that's where I always head first. There's always some great finds on the sales rack and obviously they cost A LOT LESS than the full price items. And stores have so many sales that you may go in one week and see that item you wanted a week before – now marked down. Go back there and get it!
3. Shop the 'designer' section of discount & thrift stores
Thrift, consignment and discount stores now have dedicated 'designer' sections, with high-end designer goods, that are brand new or in good to great quality. I've purchased everything from designer sunglasses, handbags, shoes, jewelry, perfume, home goods and of course, apparel, at ridiculously low prices. Make sure to check out the deals in these sections (though it might take some time to comb through the racks).
4. Invest in several classic pieces
When I splurge, I tend to do so on items that I know I will use for years. These can include basics like a crisp, white button down shirt and tailored black pants to the perfect pair of pumps and a nice piece of statement jewelry. For me, since I'm a handbag addict, I tend to splurge on new handbags that I want while shopping savvy on other items. And I make sure that the bags I buy are not too trendy that I can't carry them for years.
5. Shop your own closet
Since everything in fashion comes back around again and again, it's likely that you already have a working wardrobe and pieces you can play around with. And it's even more likely that you have plenty of things you haven't worn in awhile. Pull them out and see if they can work in your current wardrobe.
6. Resell higher-value items that you no longer wear
With all of the consignment sites popping up, there are many ways to get rid of items taking up space in your closet (and make cash for new goods). We all have stuff we no longer wear and desperately need to part with. There are even some online and brick and mortar stores that allow you to swap items or 'sell' your stuff for store credit, so you're saving money by shopping with the clothes and accessories you have hanging in your own closet!
7. Sign up for sale alerts online
Online shopping is a savers best friend. You don't have to drive to the mall to catch the current sale, and you can scour the web for discounts on pricing and shipping. Plenty of sites allow you to set up sale alerts so you'll know immediately when that item you wanted gets marked down.
8. Always have a side hustle
No matter what you love, you can create a side hustle out of it. When I was in high school, I loved jewelry so I created my own, both to make pieces I loved and wanted to wear and to sell to make extra cash. In college and grad school, I pursued other creative interests-turned-small businesses (pressed flower portraits and my own handbag line) that provided me with extra cash for saving – and shopping! Even this blog started as a creative outlet turned enterprise!
9. Hit up sample sales – online and in-person
Sample sales have long been the best place to score designer goods for a steal. And now that they exist online too, anyone can snag a great deal. There are a ton of designer sample sale sites and they're all free – all you have to do is sign up and start saving while shopping! And if you're in New York or Los Angeles, you can easily find a few sample sales going on at any time – just be ready to wait in line and power shop.
10. DIY – Do It Yourself!
Are you a crafty person? If so, you can save a ton of money on clothing and accessories by making things yourself! Want that gorgeous studded sleeved trench but don't want to pay two grand for it? Buy a more affordable trench, several bags of studs and recreate the look! Saw a fabulous necklace that was way overpriced? Visit your local bead or craft store and get the materials to make a similar version. The same goes for bags and clothes and even shoes if you're so inclined – you can make them all at home for a lot less and even add your own unique touches!
What shopping rules do you abide by to live and look luxe for less?

When it comes to Cadillac Certified Pre-Owned vehicles, we'll treat it like new. Introducing the all-new Certified Pre-Owned Bumper-to-Bumper Warranty, an extension of our new vehicle warranty for up to 6 years or 70,000 miles. Cadillac covers more of your vehicle than BMW, Mercedes and Lexus. And, with our 172-Point Inspection, 24-hour Roadside Assistance, Courtesy Transportation, and more, owning a Certified Pre-Owned Cadillac is more thrilling than ever. Learn more at www.cadillac.com/cpo.
Disclosure: Compensation was provided by Cadillac Certified Pre-Owned Vehicles via Glam Media. The opinions expressed herein are those of the author and are not indicative of the opinions or positions of Cadillac Certified Pre-Owned Vehicles.