Like many girls, I loved playing dress up as a child. I used to rummage in my mom's closet and borrow her stuff, always looked forward to holidays and special events to have an excuse to dress up, and in high school went on a record number of proms and dances (my own and other people's) – rocking a different dress for each, of course. So naturally the trend continues as an adult – I still love getting dressed up – sometimes for no reason at all. Even when I think I'm dressing down, my family and my husband teasingly ask me "Why are you so dressed up? Where are you going?" LOL!


A few months ago I was invited to a rooftop party for Von Vonni, the designer behind the Transformer dress. I got to meet the designer, preview some of his new dresses and tops and got to take home one of each. (Check out how I previously wore one of his long Transformer dresses, here). So in the spirit of dressing up, I enlisted my sister to get glammed up with me and do a fun little photoshoot in our Von Vonni and Joe Fresh best. (Can I just mention how much I LOVE pockets on fancy skirts and dresses?! LOVE!!!)
Check it out:

What I'm wearing:
Von Vonni Transformer Top in red (c/o Von Vonni) | Joe Fresh parachute skirt | J.Crew Flower Lattice Necklace | BaubleBar Pavé Links Bracelet (gift) | Valentino Rockstud Patent Leather Sandal

What she's wearing:
Von Vonni short 'Transformer' dress in eggplant (c/o Von Vonni) | Nella Allen agate necklace | Isharya Pink Agate Druzy & Ebony Wood Ring | Banana Republic Milan Platform Leopard Print Peep Toe Heels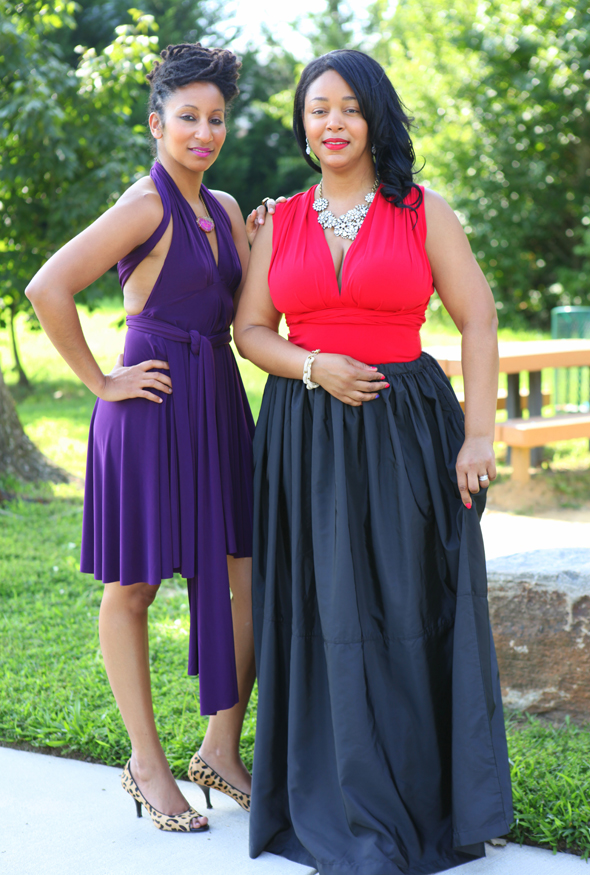 See more of my style, here.