It's important to keep our skin hydrated all year long, but often times when it's hot, I don't like slathering on ultra rich creams because they feel too heavy in the warmer weather. I have been using some great beauty buys: lighter moisturizers that leave my skin soft without that heavy feeling.


AVOJUICE Skin Quenchers by OPI are wonderfully scented, light hand and body moisturizers. I absolutely love how sheer this lotion is. It goes on and absorbs really well, leaving your skin lightly scented, soft, and hydrated. I have been using the Coconut Melon scented lotion and it is the perfect scent. There are tons of other amazing scents too, such as crisp apple, orange almond, grapefruit, jasmine and more. You can grab these Skin Quenchers at Ulta.com.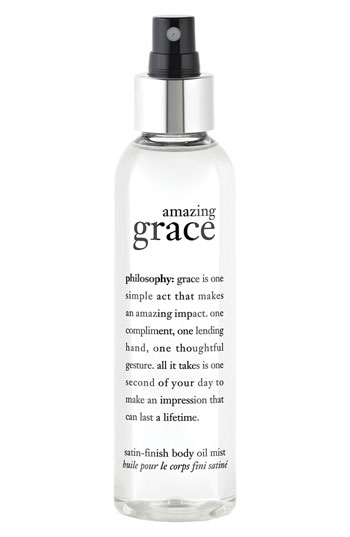 If you are familiar with Philosophy, then you probably know about their fragrance line, which includes Amazing Grace, Inner Grace, Pure Grace, and more. I happen to love the original Amazing Grace and love to use the body moisturizer in the winter. What I've discovered is great to use in the warmer weather is Amazing Grace Satin-Finish Body Oil Mist. It sprays on and absorbs instantly, leaving skin soft, moisturized, and scented. It is really light and after a full day in the sun, I love spraying on this mist. Purchase at Zappos or Nordstrom.com.
If you've been using a rich cream and feel it's just too heavy for summer, give one of these lighter moisturizers a try. They feel great after a day in the sun, and your skin will look its best when you wear that swimsuit this summer!
What beauty buys are your must-haves for hot and humid weather?