It's no secret that I looooove my clothes. But like anything else, they're only as good as the care you provide for them. And caring for them is more than just washing and drying them – it's really protecting the fabric and conditioning your clothes, if you will!


To take special care of my clothes, I've used Downy products as part of my laundry 'regimen' in the past, so I was excited when they sent over their 'Downy Difference Kit' for me to test out! I love anything that preserves my clothes (that I spend good money on) and makes them look and smell fresh and clean, no matter how many times I launder them. Inside my kit was a bottle of Ultra Downy April Fresh fabric softener, Downy Unstopables Spring in-wash scent booster, plus a blue Downy T-shirt to try out the products on. Also, the kit included a fun, instructional guide – "The Complete Downy Difference regimen" – which explained, step-by-step, how to use the products.


This weekend, I headed over to my local Laundromat to test out the Ultra Downy April Fresh and Downy Unstopables Spring, firsthand. I created a short video of my experience washing the T-shirt with the products, drying them and seeing, smelling and feeling the 'Downy Difference'! Check out the video to see it for yourself:

After using the products, my T-shirt looked, felt and smelled even better than when I first took it out of the box! Using the Downy products maintained the true blue color of the shirt, and softened the fabric, giving it that "I just want to lounge around in it" feel. Plus the fresh scent was divine!


Giveaway:
Want to "See, Smell and Feel" the Downy Difference for yourself? One lucky reader will win a Downy Difference Kit, which will also include a $50 gift card that you can use to buy more clothes to transform with Downy! Here are several ways to enter:
-Leave a comment below telling us your favorite clothing item in your closet and which Downy products you'd like to use on it.
-Tweet the following: @WhatsHaute & @Downy – I want to "See, Smell and Feel" the #Downy Difference! http://bit.ly/15gSMY3
(Be sure to leave a link to your Tweet in the comments section below.)
Contest ends 11:59 pm on June 30. One winner will be selected from all qualified entries, and will be notified by email. Winner must respond within 48 hours of being notified or else an alternate winner will be selected.
Good luck!
Learn more about Downy
Downy's Range of Products:
Downy offers a range of fabric softeners and in-wash scent boosters that can help you discover the Downy Difference.
Downy's liquid fabric softeners provide amazing freshness, scent, silky softness and static control during the wash process.
o Ultra Downy with SilkTouch™
o Downy Infusions
• Downy Unstopables in-wash scent booster can be combined with liquid fabric softener to keep fabrics smelling fresh for up to twelve weeks out of storage.
• Downy fabric softener dryer sheets provide the freshness benefits of Downy liquid fabric softener plus extra static control in the dryer.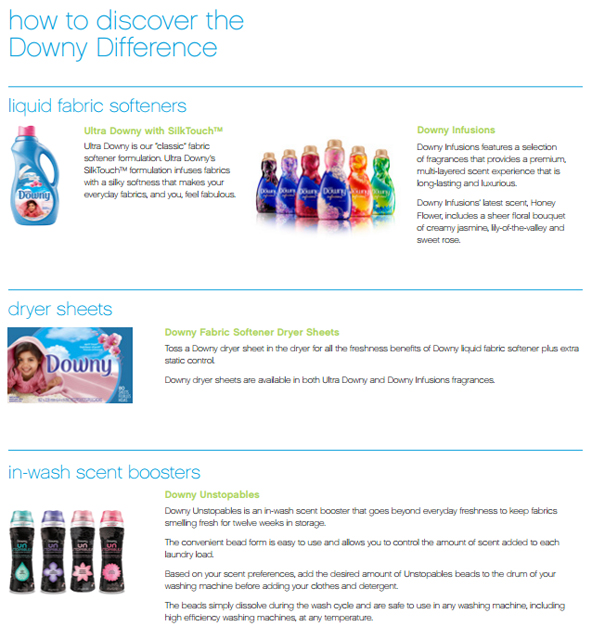 The Downy Difference:
Detergent isn't the only thing your clothes need – fabric softeners and scent boosters can upgrade your fabrics – Think of them as the conditioner to your shampoo!
• "See" the difference: You spend a lot on clothes and all it takes is a little Downy to help them stay newer for longer since using Downy preserves fabric over detergent alone.
• "Smell" the difference: Downy contains scent molecules called perfume micro-capsules (PMCs) that provide long-lasting scent. PMCs burst with rubbing or normal movement, such as walking, to give you extra bursts of freshness throughout your day. Downy Unstopables' scent-boosting formula contains four times more perfume ingredients than liquid Downy and its "scentsational" freshness lasts for twelve weeks in storage.
• "Feel" the difference: Downy contains softening molecules called "BFA" that deposit on the surface of fabric to soften clothes to make them more touchable, wearable and enjoyable.
o Downy helps to modify fabric surface properties and prevent static cling.


How To:
Create a complete laundry regimen for yourself to make sure your clothing enables you to look and feel your best.
• Create a complete laundry regimen for yourself including detergent, fabric softener, and a scent booster:
o Add Downy Unstopables to the drum of your washer, cover them with your clothes and your favorite Tide detergent, then add the load appropriate amount of Downy fabric softener to your fabric softener dispenser and watch your clothes be transformed! Continue the Difference in the dryer with Downy dryer sheets.
Disclosure: This post was sponsored by Downy. All opinions are that of the author.