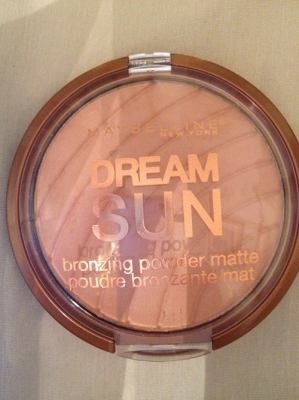 Maybelline has launched several new Dream Sun bronzing powders for summer 2013. What is great about these is that they offer a matte bronzing powder. Most bronzers are shimmery, which looks great in the summer, though not ideal the rest of the year. A matte bronzer is amazing all year round and can be used to contour or all-over.
I have been using the Matte in Light as an all-over bronzer over BB Cream. The matte finish is awesome! My skin looks healthy and like I had a day in the sun without looking sparkly or shiny. The color is a light, toasted almond and adds warmth and depth to my skin tone. I've also used it to contour my cheeks, chin, and nose. This bronzer also comes in 'Medium Matte', as well as 'Glow' and 'Four Seasons' in Light and Medium.
Another great way to use this bronzer is over your facial moisturizer for a healthy, dewy glow. The matte finish looks exceptionally good when worn this way. You can add a nice peach blush, and you're ready to head out looking like you had a great day in the sun!
These bronzers are limited-edition for summer 2013 and are available at your local drugstore. If you like them, you may want to grab some to use year-round.
Do you use bronzer? If so, do you prefer matte or shimmery?