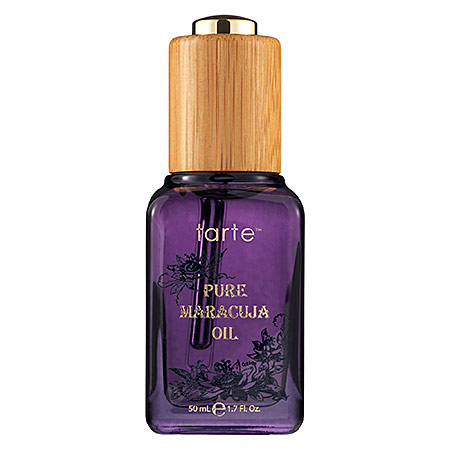 We had some beautiful, warm weather last week and it's just going to get warmer. (Fingers crossed!) Our skin tends to suffer sometimes due to the effects of summer – like the sun, chlorine, humidity and sweat. So, I wanted to share with you this amazing product I found – Tarte Pure Maracuja Oil – that has been shown to visibly improve the appearance and condition of your skin.
From the nutrient-rich pulp of a rare Amazonian fruit comes pure Maracuja oil, known as a pure miracle for your skin! Consumer studies found that 96% of women who used it saw an overall visible improvement in skin, with 91% of women noticing a reduction in wrinkles and fine lines. There also were a reported 94% of women who noticed a visible improvement in their skin texture and 94% that felt their skin was rejuvenated and renewed. These amazing results were reported after just 6 weeks of use, which is incredible!
I have been using Tarte's Pure Maracuja Oil and I really love the way it feels on my skin. It is very hydrating, but not greasy. Right away I noticed an improvement in my skin's texture and appearance. I especially love to use the oil at night after washing and toning.
If you are thinking of trying facial oil, this is a great one to go for. Formulated for all skin types (including acne-prone), it is a healing oil that promotes brighter, firmer, and more even-toned skin. The essential fatty acids repair your skin, helping to reduce inflammation and irritation. You may be reluctant to use oil on your face if you're suffering from acne, but in fact this product can help heal. Pure Maracuja oil is also rich in Vitamin C, which has been shown to help with brightening.
If you want to learn more about Tarte Pure Maracuja Oil and all the wonderful benefits, visit Tarte Cosmetics online and you can purchase there or at Sephora.