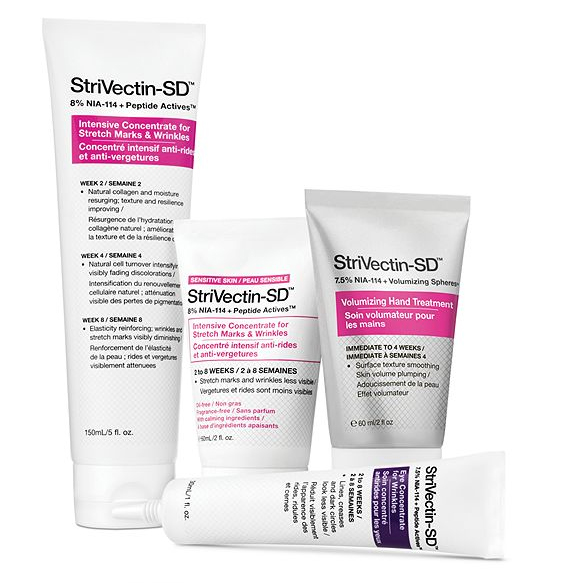 Anti-aging is a huge focus in the beauty industry right now. There are many products, tools, and procedures to help slow the signs of aging and keep skin looking youthful. As I near 40, I'm beginning to incorporate more anti-aging products into my beauty routine. I heard a lot about StriVectin and wanted to see what all the hype was about. I decided to try StriVectin-SD Intensive Concentrate for Stretch Marks and Wrinkles for 4 weeks to see how well it worked.
StriVectin-SD is packed with an 8% active peptide blend that works to improve the appearance of stretch marks and wrinkles in just 2-8 weeks. The cream is derived from skin cancer research, to rebuild skin layers, thereby reducing wrinkles, dark spots and improving the texture of your skin. Over the course of 8 weeks, this product is said to increase skin's elasticity for visible results.
I was starting to notice the fine lines along my problem area – my forehead – so I applied the StriVectin-SD cream twice daily and was really excited to see quick results! StriVectin blends easily and does show an immediate smoothing effect on skin. Within 4 weeks of use, the lines on my forehead have softened and diminished significantly!
I highly recommend giving StriVectin a try if you are worried about lines and wrinkles. The original formula has been refined for even better results. A 5 oz tube costs $139 and can be purchased at Drugstore.com, Beauty.com, Lord & Taylor, Zappos.com & Bloomingdale's. Or pick up the entire StriVectin-SD Collection at Macy's.
Are you concerned about wrinkles? What are some anti-aging products you love?