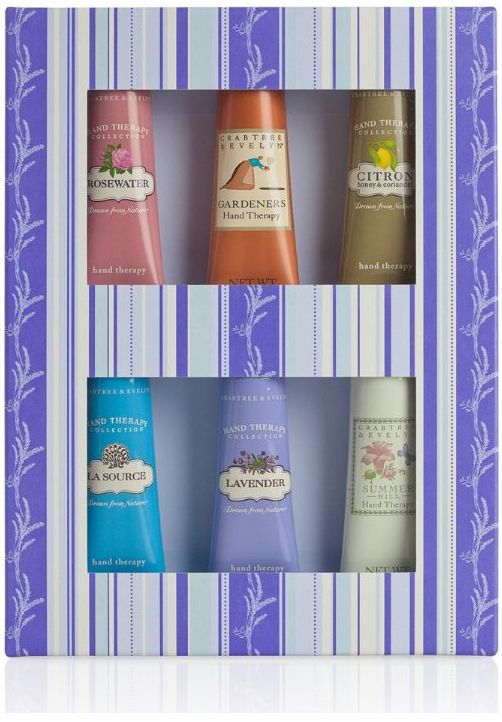 Cooler weather is here, and for me that means dry hands. I tend to suffer with dry, rough skin on my hands all winter, so I've been trying some new products that have been keeping my hands hydrated, soft, and looking great.
I never thought there was a need to exfoliate my hands, but then I discovered Crabtree and Evelyn's Hand Recovery. This product contains three sizes of natural exfoliants, as well as moisturizers, to polish and smooth hands. I love the immediate results you notice with this product. My hands feel great after using Hand Recovery.
Even better is to follow up my exfoliating with Crabtree and Evelyn's Ultra-Moisturizing Hand Therapy containing Shea Butter. I've been using the Hand Recovery three times a week and moisturizing with Hand Therapy daily. My hands have been soft, free of dryness and roughness, and looking great! I also love the scents that these products come in; my favorites are Pomegranate, Argan, and Grapeseed, and Citron, Honey, and Coriander. A good way to try both of these products is by grabbing a gift set, like this Crabtree & Evelyn Hand Therapy Sampler Gift (6 x 25g Rosewater, Gardeners, Citron, La Source, Lavender & Summer Hill)
.


Another amazing hand treatment is Tiny Hands Hand Moisturizing Bar from Lush. This little hand-shaped bar is filled with cocoa and shea butters, argan oil and aloe vera and it smells great! And you only need to rub a small amount over your hands – a little goes a long way! I've been keeping a bar in a dish on my night table and have been using it before bed. I go to sleep and wake up with incredibly soft hands! You should definitely grab one of these bars. Visit your local Lush store or order online.
Fall is the perfect time to get started on keeping your hands hydrated and in perfect shape to tackle the drying effects of winter. Let me know if you give some of these products a try.