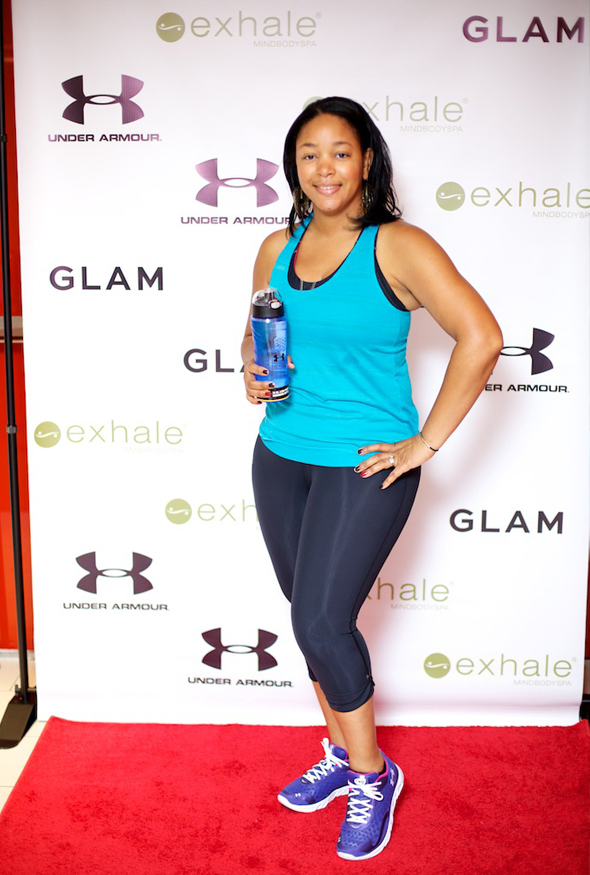 Last week Glam & Under Armour kicked my butt at a Core Fusion blogger bootcamp class at Exhale Spa at the Hotel Gansevoort! But it was all in good fun, and in celebration of Under Armour's What's Beautiful contest!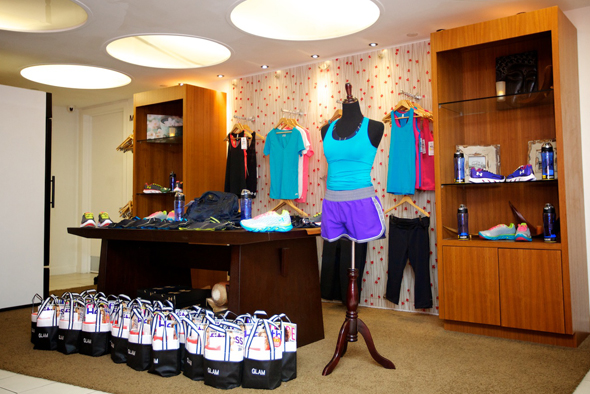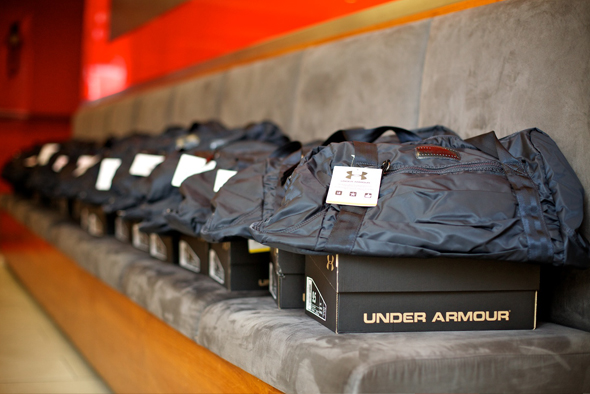 When I arrived at the spa, I immediately received a head-to-toe custom outfit from Under Armour. I'm talking an Armour sports Bra™, UA Muscle Tank, UA Shatter II Capri workout pants, Grippy II No Show Socks, UA Spine RPM Running Shoes and a UA Shatter Tote bag and water bottle. (See more info on the products I wore, below). I changed into my new look and then hit the red carpet for my closeup!


Next, our group of bloggers headed into the room ready for a good workout. And that's exactly what we got! After the Under Armour reps chatted with us about their women's product line as well as their new campaign, "No Matter What, Sweat Everyday", and did a presentation on the contest, the Exhale Core Fusion team took over and gave me and the other bloggers the workout of our lives!


After the class, I felt re-energized and invigorated, and a little bit (OK, a LOT!) exhausted, but we had the chance to relax over a healthy lunch of sushi, salad and smoothies. Plus, the staff at Exhale gave us much-needed massages. It was the perfect pampering treat needed after the bootcamp.

Under Armour "What's Beautiful" Contest
Under Armour Women set out to redefine the female athlete by creating "What's Beautiful", (follow the #WhatsBeautiful Twitter hashtag) a program that encourages women to share their fitness journeys and receive motivation, free gear, and support from Under Armour along the way.
The Under Armour What's Beautiful community is growing by the minute and the women in the challenge are seriously bringing it. Check them out! Set your own goal. Crush it. And the 10 women with the most epic journeys will win a trip to Florida to the Under Armour Women's Camp Sweat where you will train with the best. http://whatsbeautiful.ua.com?CID=DA|Glam|Bloggers.
Under Armour Women's product info:
UA Muscle Tank
• Soft and super lightweight poly fabric keeps you comfortable in and out of the gym
• Lightweight, 4-Way Stretch fabrication improves range of motion and dries faster
• Signature Moisture Transport System wicks sweat to keep you cool, dry, and light
• Twisted T-back style for extra mobility and a little attitude
• Extended length delivers extra coverage for when you're going really hard
• Shaped hem for a more feminine silhouette
• Unique burnout stripe pattern on front looks as cool as it acts
UA Shatter II Capri
Shatter records in style. The Women's Shatter II Capri Pants will add flash and function to your training routine with their comfortable ruched waistband and scalloped bottom hems. But don't be fooled—these capris are built to crush it. UA's signature compression fit works to keep your muscles primed and help prevent injury. Our moisture-wicking HeatGear® fabric and integrated Anti-Odor technology will keep you in peak fighting shape. So what you get is more than performance capris, you get capris that help you perform—better.
• Lightweight compression fabric unleashes the power of your muscles, increases your stamina, and helps you recover faster
• Signature Moisture Transport System wicks sweat away from the body, keeping you cool, dry, and comfortable
• Anti-Odor technology prevents the growth of odor-causing microbes to keep your capris fresher, longer
• Extra-wide, ruched waistband delivers enhanced coverage and comfort
• Scalloped bottom hem provides extra ventilation
• 17″ inseam
Armour Bra™
Digging, bouncing, pain, and permanent damage—fighting with your sports bra shouldn't be part of your fitness routine. So we spoke with athletes. We worked with Dr. Joanna Scurr, the authority on biomechanics of the female body. And we tested hundreds of prototypes. The result is the revolutionary Armour Bra™, sized so both band and cup fit your exact body type. Now, instead of squeezing into a Small or falling out of a Large, you can choose your exact size for the perfect performance fit.
UA Spine RPM Running Shoe
Built to support every move you make, the Women's UA Spine running shoe does what others can't. It delivers the sturdiness of a stability shoe with the weightlessness of a distance shoe. How? We took a dual density foam chassis and carved out the bulk to create an ultra-light, ultra-responsive mile eater that actually mimics the human spine. THIS IS HOW WE RUN.
UA Shatter Tote
•  Large main compartment gives this gym bag ample storage, for a workout, workday, or weekend
• 2 sets of straps allow you to carry as a duffel or a tote
• Specially lined, heat-safe pocket stores styling tools without risking damage to your gear
• Removable shoe bag stores your shoes separate to keep your gear fresh
• Vinyl toiletry pocket with UA hair tie ring stores all your make-up must-haves separately for easy access
• Soft, lined internal media/valuables pocket delivers secure, scratch-free storage
• Easy pull front pocket for extra organization
• Exterior straps hold your fitness mat so you don't have to
• Embossed logo patch and feminine ruched details deliver superior style in and out of the gym
Grippy II No Show Socks
• Signature Moisture Transport System wicks moisture and accelerates evaporation
• Embedded Arch Support Reduces foot fatigue, bolsters circulation
• True Seamless Toe for ultimate comfort
• ArmourBlock® helps prevent growth of odor-causing bacteria
• Contoured "Y" heel for comfort and perfect fit
• ArmourGrip® sock technology prevents slippage
Disclosure: Compensation was provided by Under Armour via Glam Media. The opinions expressed herein are those of the author and are not indicative of the opinions or positions of Under Armour.
Photos: courtesy of Glam