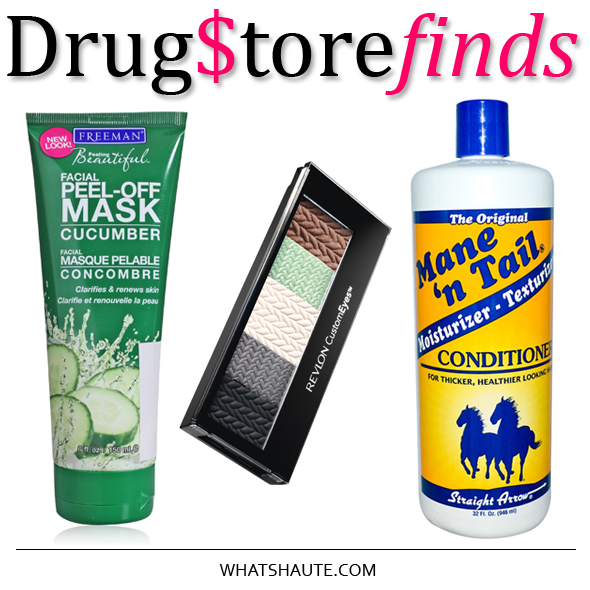 I love beauty bargains, and when you're on a budget, you can still find really great affordable products to pamper yourself with. I've been using some great drugstore products lately and it's a great way to add to my beauty routine without breaking my budget. I hope you'll give some of these products a try too!


I love giving myself at-home facials and one of my favorite products lately has been the Freeman Cucumber Facial Peel-Off Mask. This oldie but goodie is soothing, clarifying, and just plain fun to use. It's a clear gel infused with cucumber extract, chamomile, and vitamin A. After you spread it on your face, you let it dry, then peel it off. It leaves your skin free of impurities, and feeling fresh and clean. It's available for under $5 at Drugstore.com, Walgreen's and ULTA.

I recently picked up huge 32 oz bottles of Mane 'n Tail Shampoo and Deep Moisturizing Conditioner, and I am in love with this stuff! It is super affordable, smells great, my hair looks thicker, shinier and it feels wonderful. If you're looking for new hair care products, definitely give Mane 'n Tail a try. Advertised as both suitable for human and horse hair care, it deep-cleans without stripping natural oils, and contains micro-enriched proteins. Both are available for under $10 each, at Sally Beauty Supply, Walgreen's and Drugstore.com.

Looking for an easy, quick, affordable look for eyes? Revlon Custom Eyes is an eyeshadow duo/liner palette compact that shows you exactly how to use the colors to create a perfect look with all five colors inside. I've been using the Party Pops palette and the colors are perfect for fall. It's foolproof, long-wearing, and affordable at only $8.99 for an entire eye look! Pick one up at Drugstore.com or ULTA Beauty.
I hope you will give some of these affordable beauty buys a try, and let me know how you like them.
Do you have any drugstore beauty finds that you can't live without?