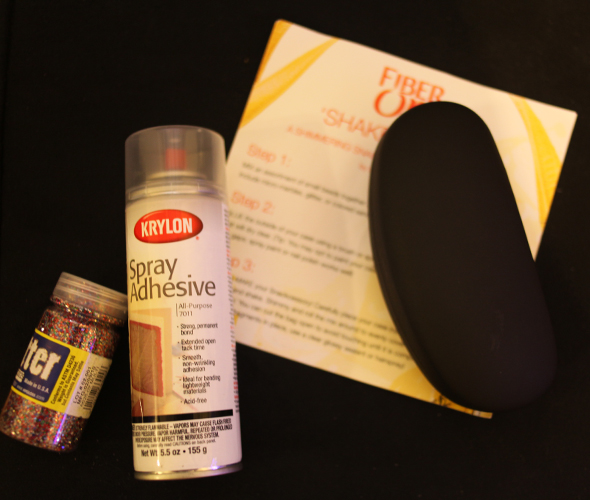 As a crafty person, I've always enjoyed a good DIY project. From creating my own jewelry, handbags and even artwork, I love to spend the occasional weekend painting, sewing, beading, studding – just creating! So I was excited to be personally invited by Fiber One to participate in their 'Snackcessory Challenge'.
Fiber One Bars and Brownies (the official snack of Mercedes-Benz Fashion Week) teamed up with celebrity style expert Bobbie Thomas to encourage consumers to show their crafty skills through the first-ever Fiber One Snackcessory Challenge. Fashionistas, DIYers and Fiber One fans are challenged to create their own Snackcessory, a stylishly designed case or pouch that you can throw in your bag to hold delicious, on-the-go snacks, like Fiber One Bars.
Fiber One sent me some materials to create my own Snackcessory: a black hinged case, some glitter and spray adhesive, a little inspiration from Bobbie Thomas plus Fiber One Bars! I decided to create a simple design using stencil tape to block off the ares I didn't want covered in glitter. A hard task, I tell ya – there was glitter EVERYWHERE.


Next I poured an ample amount of glitter in a plastic Hefty bag. Then I sprayed the tape-covered case with the adhesive spray (make sure your place is well-ventilated before spraying!) and quickly dunked it inside the bag, sealed it up and started to shake to get the glitter everywhere.


After sufficiently coating the case in glitter, I opened the bag to let it dry for a few hours before taking it out. After I removed the case, I took off the tape to reveal the design, and then gave it a light spray of hairspray to hold the glitter in place.
Here's the finished product: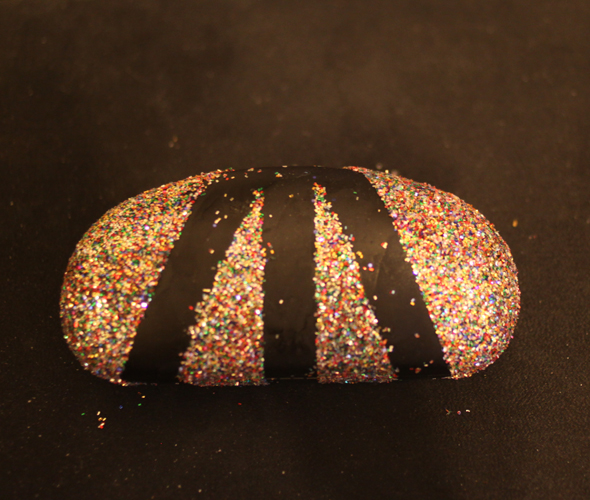 What do you think of my Fiber One Snackcessory?
You too can participate in the challenge, and you have the chance to win a trip for two to Mercedes-Benz Fashion Week in New York City in February 2013! Through September 30, 2012, visit FiberOne.com and submit a photo and 100-word description of your original Snackcessory design. Everyone who enters their design will have a chance to win the following prizes:
-One Grand Prize winner will be awarded a trip for two to New York City to attend Mercedes-Benz Fashion Week in February 2013 and a meet & greet with Bobbie
-Nine contest finalists will each be awarded one $500 gift card for a handbag of their choice
Bobbie Thomas will help select the top 10 finalists, who will be announced in October, and Fiber One will post their designs in an online gallery for public voting. The Grand Prize Winner will be announced in November 2012.
About Fiber One Bars and Brownies
Fiber One Bars and Brownies contain 20 to 35 percent of the recommended daily fiber intake. The products come in several different flavors and varieties, including the following:
Fiber One Bars: Oats & Chocolate, Oats & Peanut Butter, Oats & Caramel, Oats & Strawberry, Chocolate Mocha
Fiber One Chewy Bars: Chocolate, Strawberry PB&J
Fiber One 90 Calorie Bars: Chocolate, Peanut Butter, Chocolate Caramel & Pretzel
Fiber One 90 Calorie Brownies: Chocolate Fudge, Chocolate Peanut Butter, Chocolate Chip Cookie