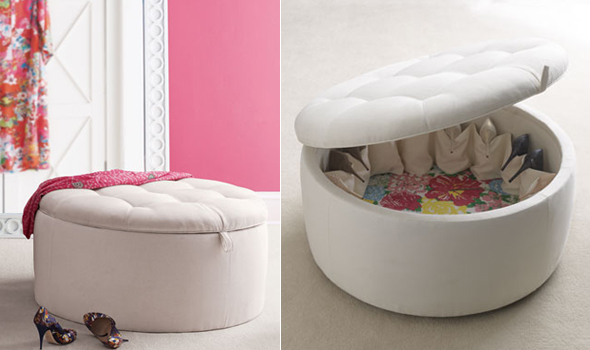 Living in a small space (pretty much every apartment in New York City) forces you to find ways to get 'space creative' when it comes to your home. And for accessory addicts, like moi, you need a special place to store all those shoes and bags. Unless you're a gazillionaire and can afford a penthouse apartment with a huge walk-in closet, here's an alternate storage option: the Lilly Pulitzer Home "Rousseau" Ottoman.
Doubling as a chic seat AND storage space, this handcrafted, quilted ottoman features a hinged lid with 16 internal pockets for shoes, plus a large open space in the middle for even more shoes, or handbags and other accessories. (Note: each shoe pocket can hold a pair of flats or flat sandals but only one wedge or large heeled shoe.)  Measures 36″ Dia. x 19″ T.
Buy the Lilly Pulitzer Home "Rousseau" Ottoman for $999 (+ $175 delivery & processing) at Neiman Marcus.
Unable to ship to Canada.