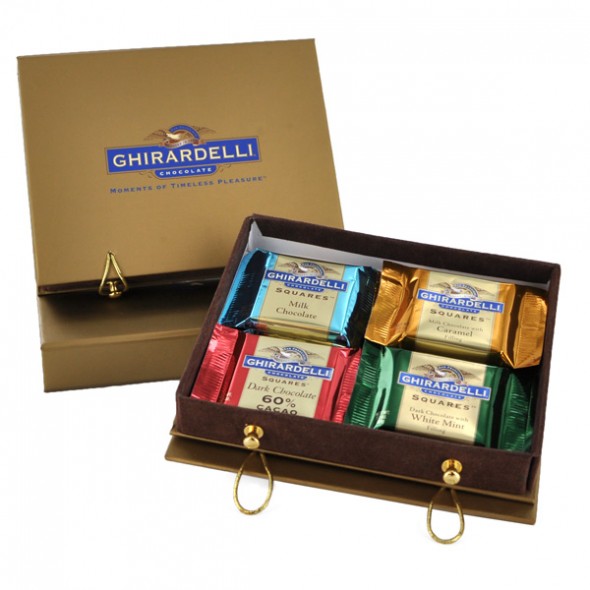 Every now and then, I find myself craving little culinary luxuries, like rich, melt-in-your-mouth chocolate. And Ghirardelli SQUARES
are the perfect size, and come in enough flavors to feed my chocolate fix. I recently received a tasting box to review and let's just say, I love my job!
Ghirardelli SQUARES deliver the smooth but bold taste you expect from a gourmet chocolate. Its delightful milk chocolate squares are divine: rich, flavorful, and satisfying. For the dark chocolate lovers, Ghirardelli offers Intense Dark 60% Cacao Evening Dream
for that slightly tangy, bittersweet experience (great for coffee lovers). And for all of us who are convinced that chocolate deserves a partner in crime, Ghirardelli has brought together the best of both worlds – milk chocolate and caramel. The Milk & Caramel SQUARES
overflow with gooey sweet caramel and rich milk chocolate – they're the perfect midday pick-me-up. The Dark & Sea Salt Caramel SQUARES
take it to the next level, providing the perfect combination of sweet and savory. And if that wasn't enough, the Dark & Mint SQUARES
provide that final refreshing breeze of cool mint to finish off a long day at the office. Also try Milk & Truffle SQUARES
, Dark & Truffle SQUARES
, and Dark & Raspberry SQUARES
for other smooth and sweet alternatives.
Ghirardelli SQUARES are not just a great addition to your office desk, your purse, or your coffee table; they're a girl's (especially THIS girl's) best friend!
Shop the Sensational Summer Sale! Up To 50% Off Ghirardelli Chocolate
!