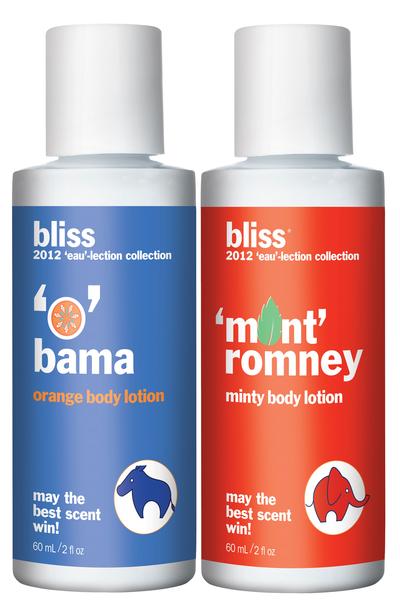 Here's a fresh and fun way to show your love for your favorite candidate! Or, rather, wear the love.
To celebrate the upcoming election in a positive way, beauty brand Bliss has created political-themed body lotions to represent each candidate. 'O' bama is an orange-scented lotion named after President Barack Obama and 'Mint' Romney is a minty fresh lotion, of course named for Republican candidate Mitt Romney. The bottles come in red and blue, to represent each candidate's party.
Bliss president, Mike Indursky, told the NY Times that the company will be doing its own 'eau-lection'. They will be handing out the lotions at the Republican convention this week in Tampa, Florida, and at the Democratic convention next month in Charlotte, North Carolina. Bliss employees will poll which lotion the attendees prefer.
And starting August 27, Bliss will be giving its online shoppers one of the lotions as a gift, with a purchase of $50 or more.
Which lotion is your pick?
Shop Bliss now to get your 'O'bama or 'Mint Romney' lotion with a purchase of $50 or more!
Source: Daily Mail