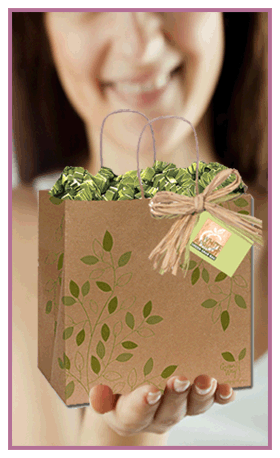 I am 'going green' as much as I can, and I'm always excited to learn about natural, organic and eco-friendly beauty products. I heard about Green Grab Bag by White Apricot and I was really excited when they sent me their March bag to sample. Green Grab Bag is a monthly subscription service where you will receive at least 6 natural, organic, and vegan beauty products, including skin care, hair care, cosmetics, or fragrance. After sampling the products, you can get coupon codes from their website to be used toward the purchase of the products in full size.
In my March bag, I received some really wonderful products from companies that I was not familiar with. I love trying new things, and these items did not disappoint. I received Delizioso Skincare Elderberry Hair Smoothie, Tsi-La Perfume, Skin Perfection Seven Seas Mask, Revolution Organics Freedom Lip Gloss, Mineral Hygenics Mineral Eye Shadow, and Shea Terra Organics Ultimate Moisturizing Body Cream, all housed in a recyclable paper bag tied with raffia.
My favorite product is the Shea Terra Organics Body Cream. It is thick and rich, has a wonderful pink guava and pomegranate scent, and really hydrates my skin with no greasiness. It is especially great for rough elbows and knees. I also loved the Revolution Organics Lip Gloss. The color is a sheer red, and it has a wonderful botanical smell. Infused with aloe and organic plant proteins, it is good for your lips as well as pretty.


For May, Green Grab Bag will be offering a Mother's Day Special. If you order mom a 3,6, or 12 month gift subscription, you will receive a bonus bag for yourself. This would be a wonderful gift for your mother and a great way for you to try Green Grab Bag yourself. Visit greengrabbag.com for all the information on how to order a gift, or to sign up for your own grab bag subscription.
It feels great to use beauty products that are good for you as well as eco-friendly. Let me know your favorite 'green' beauty product!