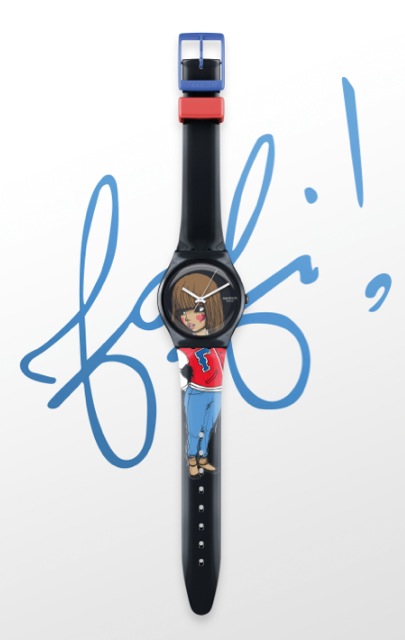 Ever since I was a pre-teen, I've associated Swatch watches with a certain level of coolness. My first Swatch was kick a$$, with a completely transparent face, dial, band – everything. My next few Swatch watches were equally as fun – with polka dotted faces, multicolored bands, etc. Over the years Swatch remains that watch brand to 'watch', for its ultra cool take on timepieces.
The latest Swatch Originals collaboration with French graffiti artist Fafi (who has also collab'd with  with Adidas, M.A.C cosmetics and Chanel), resulted in yet another haute design I'd love to have grace my wrist. The black watch, called Fafi O'Clock, features one of the artist's famous Fafinette street style characters. The artist was inspired by her first Swatch and said: "Like a lot of kids, my first ever watch was a Swatch. I can still remember the pleasure of wearing it and how highly fashionable I felt!"
This $60, limited-edition timepiece is available today in stores and online at Swatch.com.
Shop more Swatch watches: