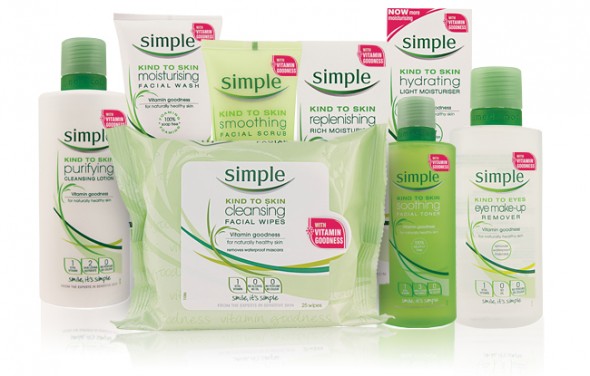 I recently purchased some Simple skin care products from my local drugstore. The line was new to me and looked to be really natural and affordable. I then started seeing the TV commercials for this line. They are a UK-based skin care brand focused on using natural ingredients. The packaging is green and fresh-looking and I was excited to give the products a try!
I bought the Kind to Skin Cleansing Facial Wipes and the Hydrating Light Moisturizer. I really liked using the wipes; they are not overly saturated, are pure and light and do a wonderful job of removing makeup and cleansing the skin. These pH-balanced wipes are 100% alcohol- and oil-free and they left my skin incredibly soft and smooth. I will be packing these in place of my facial cleanser for my upcoming trip.
Following cleansing, I used the Hydrating Light Moisturizer. It is light, absorbs quickly and also left my skin amazingly soft and smooth. It contains no chemicals or colors and is packed with moisturizing vitamins, and it makes the perfect base for foundation or facial powder. If you have normal to oily skin, you will love this moisturizer. It hydrates but doesn't add any oil so your skin stays feeling light and fresh.
I am looking forward to giving more of Simple's fresh and pure skin care products a try. Pick them up online at Drugstore.com.