What do Barbie, DC Comics, Disney and The Muppets have in common? They've all been immortalized in jewelry by nOir! Since 1995, nOir has been designing some of the most innovative jewelry I've ever seen. I'm talking dinosaur bone cuffs, Cubist-inspired necklaces, skeleton earrings – and could you ever imagine wearing the Brooklyn Bridge – on a ring? nOir has designed it all and more.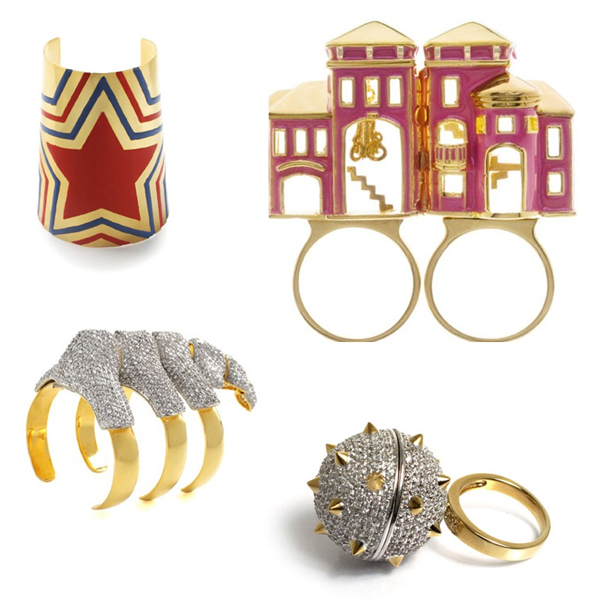 nOir founder and designer, Leeora Catalan, got her start at Ralph Lauren and Oscar De La Renta and then went on to become a fashion stylist, which is when she launched nOir. She has said that New York City is the muse behind her creative brand, and she derives inspiration from every part of the city. It's easy to see that inspiration in pieces like the Brooklyn Bridge ring. Catalan has a knack for taking a simple jewelry style – a bracelet, ring, earrings or a necklace – and turning it into a true work of art.
Because of nOir's unique design aesthetic, over the years they've had the opportunity to collaborate with many of the top fashion brands and influencers like Marc Jacobs, L.A.M.B, Patricia Field, Tokidoki and more. It's always amazing to see how nOir incorporates their artistic vision with that of their brand partner – like the tribal, punk jewelry they created for L.A.M.B. Or the Barbie's Dream house ring they created in collaboration with Mattel. And the Miss Piggy and Kermit necklaces created with The Muppets. nOir continues to create really special, unique pieces that always make great conversation pieces and add a little cheekiness to your look. nOir's innovative, 'over-the-top' designs are always embellished with crystals, studs, spikes and come in shapes and silhouettes you could only dream of! A jewelry box filled with nOir pieces is a jewelry box full of fun surprises!
Disclosure: Compensation was provided by LEXUS via Glam Media. The opinions expressed herein are those of the author and are not indicative of the opinions or positions of LEXUS.