Saying I love to shop is an understatement – it's pretty much part of my routine. And also part of my routine is returning clothes that just don't fit. I'm not talking wrong size, but right size, poor fit. Going to get them tailored is an option but I, and I'm pretty sure you, wonder why I can't just buy clothes that always fit?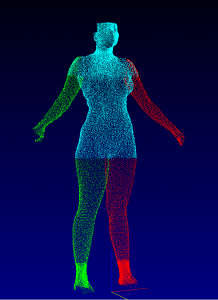 Well, there's a solution – Acustom™. It's a new brand whose tagline is "Clothing Gets Personal". At the Acustom Design Lab in SoHo, New York City, they use a Digital Tailoring machine, that creates a pixelated representation of you, the customer, in just under 20 seconds. Then, you can help design your own clothing, choosing everything from fabrics and buttons, to styles, cuts, washes, and fit. (Currently their offerings include denim and men's suits). Once you're done, your new, made-to-fit clothing is created and shipped directly to your home! And each customers receives a unique log in to Acustom's website where you can easily re-order or create new clothes that fit your exact proportions. This is genius – and I wonder why no one ever created it before?
Acustom's CEO Jamal Motlagh thinks 'people should get used to fit, and ACUSTOM™ helps them do just that'. Fashion innovation, technology, and personalization – all at affordable prices? Where can I sign up?

Disclosure: Compensation was provided by LEXUS via Glam Media. The opinions expressed herein are those of the author and are not indicative of the opinions or positions of LEXUS.