What's Haute has kicked off it's '30 Days of Holiday Gifts' series! We've sorted through the best in beauty, fashion, accessories, home goods and more across the web to help you select the perfect holiday gifts! Check back daily to see our holiday gift pick of the day.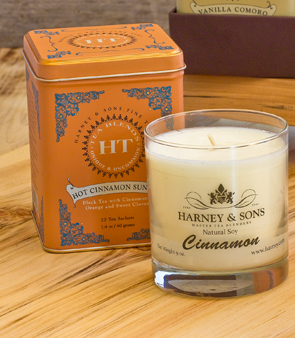 Coming from a self-described caffeine-holic and coffee-nista, sometimes the dark brew just doesn't cut it. There are days when all I want, all I need, is a relaxing cup of tea. After discovering Harney & Sons tea last year (ironically, it was being sold in Starbucks), I've become obsessed with their brews – specifically their Green Tea with Coconut and Ginger. The taste is delish, and the scent is calming. So the perfect gift would be one that combines the two, right?
Check this out – for the holidays, Harney & Sons has paired some of their most popular teas with scented candles, so you while you're sipping your yummy cup of tea, you can enjoy the fragrance of it as well! Currently there's no Green Tea with Coconut and Ginger option (insert sad face), but there are four other delicious duos, like Vanilla Tea, Chinese Flower, Hot Cinnamon, Cranberry and White Christmas Tea & Candle Gift sets. Priced at $21 – $29, you can easily gift all the tea lovers you know! And order today to save 10% off your order – no coupon needed!
Shop the Harney & Sons Tea & Candle Gift sets on Harney.com.