My 'Flawless Face':


When it comes to my makeup routine, I live by the motto K.I.S.S. – keep it simple stupid. I rarely wear more than a light dusting of loose powder or bronzer, a quick coat of mascara and a nude lip. Sometimes, for special occasions, I'll throw on a touch of eyeliner and some smoky shadow but that's pretty much as far as it goes. So when I was sent some Laura Mercier products to create a 'flawless face', I was open and up for the challenge of trying out a new beauty and makeup regimen.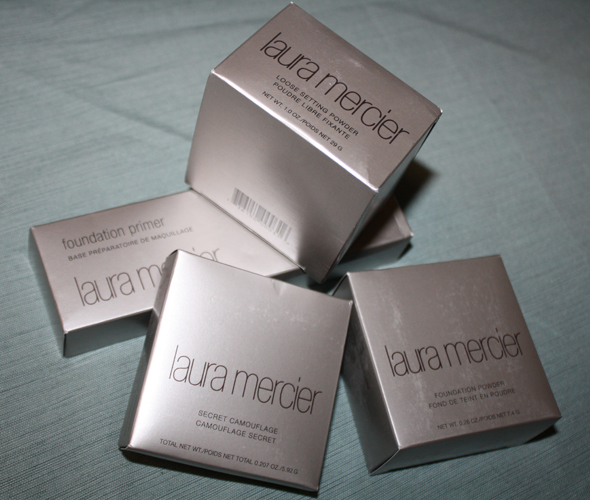 Creating a 'flawless face' happens in four simple steps and with four easy-to-use Laura Mercier products! After first washing my face, I primed my skin with Foundation Primer. It's a clear gel that you spread on your skin to create an even layer between the skin and makeup and it helps your foundation last longer. It goes on silky smooth – a little bit oily but it dries fairly quickly.
The second step was to apply the Foundation Powder. Using the sponge, I applied it all over my face to create an even tone, but you can use it sparingly where needed. I kept it light since I had two more steps to go.
Next – I had to apply the concealer. Laura Mercier created this award-winning Secret Camouflage to cover your imperfections and it did just that for me. The two-part concealer should be mixed on your hand to get the right shade then applied with a Secret Camouflage brush all over the face. For me, it went on smoothly and evened out my pores and any dark marks on my face. You can also just use the Secret Concealer alone to hide dark circles under the eyes.
Finally, I set the look with a dusting of Laura Mercier's Loose Setting Powder using the included velour puff. This powder is perfect for finishing an even look for your face, and since it's translucent, you can add color on top of it if you like. Or you can just wear it as a sheer powder to enhance your natural beauty!
Here are some of Laura's tips for each item in her Flawless Face collection:
Foundation Primer – Place the Foundation Primer in the refrigerator before use; the coolness is extra refreshing and helps reduce puffiness.
Foundation – If you have short hair or wear your hair back, massage a little foundation into your ears to ensure a natural look.
Secret Camouflage Concealer – Look in a mirror with the best available natural daylight and apply Secret Camouflage where you see a shadow.
Translucent Loose Setting Powder – To prevent emphasizing lines and shadows, only apply pigmented powders to flat surfaces, never around the eyes or mouth
Laura believes there are four steps to create a flawless face—primer, foundation, concealer, and setting powder. Each product has been specifically developed to allow every woman to achieve an incredibly even, smooth, yet natural-looking complexion.
For more information on Laura's flawless philosophy and tips on how to use each product within each step is located here: http://bit.ly/qEdysD
If you are telling others, they can get their perfect products to create their ultimate flawless face using our flawless face finder: http://bit.ly/eOvLjf
Disclosure:
Compensation was provided by Laura Mercier via Glam Media. I received a sample to review as part of the program. The opinions expressed herein are those of the author and are not indicative of the opinions or positions of Laura Mercier.