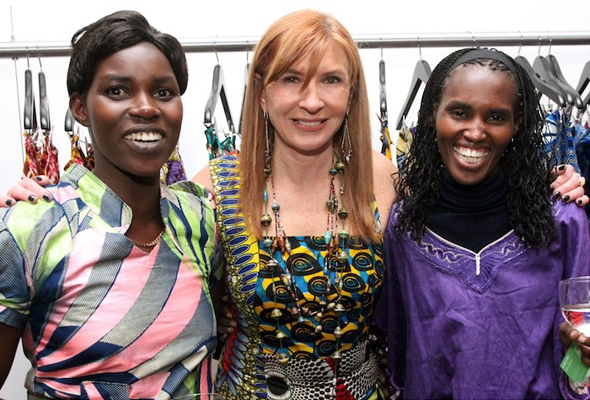 We rave on and on about endless designer collaborations but the most important ones are the ones that enable us to truly give back. Last night I attended a cocktail party at the Nicole Miller boutique in SoHo to celebrate her partnership with Indego Africa (Independence. Development. Governance.), an organization that partnered with Cocoki (Cooperative de Couture de Kicukiro), a sewing cooperative of over 40 women in Kigali, Rwanda. This is Nicole's second collaboration with Indego and at Tuesday night's event I got the chance to chat with two of the women involved with the partnership. I met Emelienne Nyiramana and Therese Iribagiza, two master seamstresses who worked with Nicole for a week of hands-on training in her atelier. The results of their work: a chic collection of kente print accessories including handbags, braided and fabric-wrapped bracelets, multi-strand necklaces, plus cute printed shorts and sarongs, along with the haute dress Nicole Miller was wearing. Unfortunately it wasn't for sale, but it may be included in future collections – stay tuned! Anyway, I truly appreciate what Nicole is doing – helping these women to empower themselves by giving them skills they can use to work independently going forward. Plus I love that the entire collection is under $100, so there's no excuse for us not to support it, right?


Check out some of the goods from the Nicole Miller x Indego Africa below and you can shop the collection on her website.
Fabric-wrapped bracelets, $25 for a set of 3; Sarongs, $65: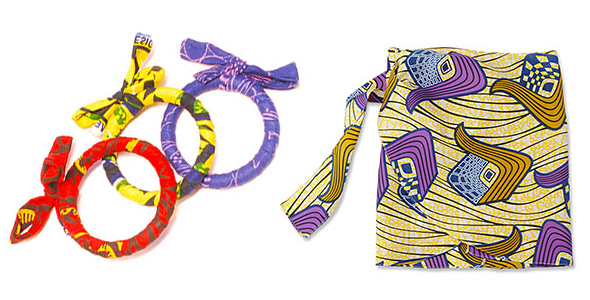 Shorts, $65:


Tote bags, $60: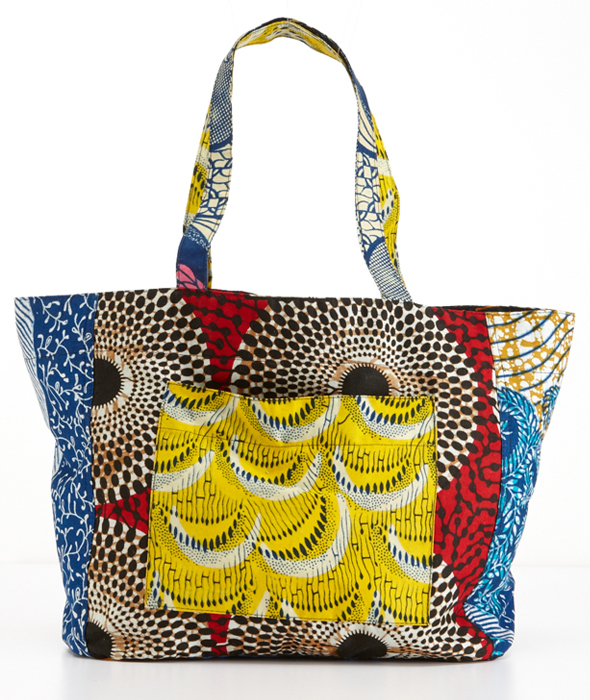 Necklace, $35/single strand, $60/2 strands, $85/3 strands: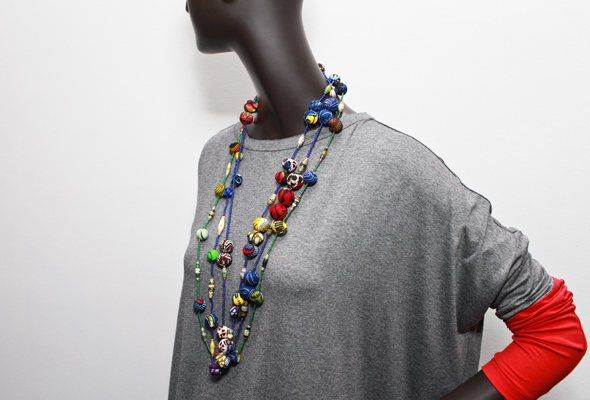 Braided bracelets: $20 each (not pictured)
Learn more about Nicole Miller x Indego Africa on Facebook!