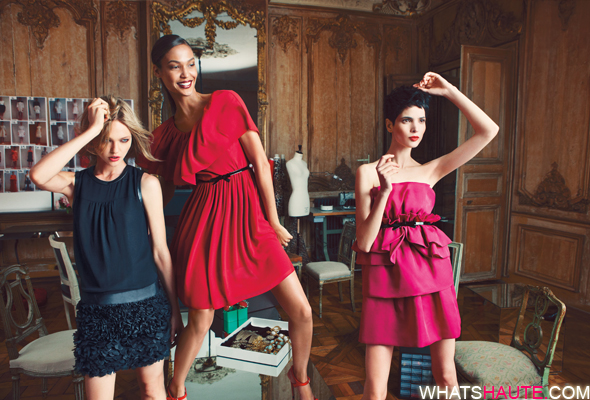 New York, London, Milan and Paris Fashion Week's have finally wrapped for the season but the average woman won't be wearing those collections anyway. More likely she'll be rocking pieces from a designer collaboration, which seems to be THE THING TO DO these days. Next up is the "Giambattista Valli for Impulse Only at Macy's" capsule collection, their fourth designer collaboration series to for the "Impulse" department.


Described as "affordable luxury", this limited-edition women's collection is Valli's first low-priced line. Valli, who is known for wild colors and prints, has designed pieces reflective of his famous designs. Pieces will consist of sequin jackets, soutache dresses, floral-print maxi dresses, cocktail dresses, funky leggings, and graphic t-shirts, lightweight blazers, flirty skirts and feminine blouses with fabrications like leopard print, lace, point d'esprit tulle, tweed, brocade and faux fur. The line launches Oct. 26 in approximately 225 Macy's stores nationwide and on macys.com
, with prices set to range from $50-$150.


Giambattista Valli said: "This capsule reflects my enduring loves, but is really a celebration of my biggest inspiration of all – the energy and vitality of women themselves. I love dressing them for all their happiest moments, making them feel as special as possible. This collection is a passport into my world and a chance to experience the passion and romance of my house and Paris itself."


Jeff Gennette, Macy's chief merchandising officer, stated: "It is a tribute to the success of this capsule series for Macy's to partner with Giambattista Valli on his first venture into affordable luxury goods. He is a visionary talent known for extravagant designs, so heading into the holiday season is a perfect moment for his creations in our stores. This collection strikes just the right balance between youthfulness and sophistication, speaking directly to our fashion 'Impulse customer."


Wanna be a "Valli Girl" this holiday season? Stock up on some of these cheap-chic party dresses from Giambattista Valli for Impulse Only at Macy's! To shop, visit www.macys.com/impulse.