Growing up, my mom always took me on shopping trips to Lord & Taylor for 'big' events (school shopping, holiday and party dresses, suits for job hunting, etc.) and as an adult, Lord & Taylor became one of my major go-to shopping staples. So I was thrilled to be invited by Lucky Magazine to a blogger shopping/breakfast at Lord & Taylor to kick off New York Fashion Week. After being treated to coffee and breakfast goodies and gifted with $200 to shop the store before it opened to the public, we met Suze Yalof Schwartz, former Fashion Editor at Glamour and current Fashion Editor at Large at Lord & Taylor. She spoke to us about 3 key Fall fashion trends – lots of shine, colored jeans and colorblocking, (and she complimented me on my colorblock look! — I wore a bright orange Zara blazer and hot pink Greylin silk top), and encouraged us to check out the selection of dresses, since a dress is the perfect outfit any woman can have in her closet. And Lord & Taylor has always been one of my top spots for finding cute dresses so I was already heading that direction! But lo and behold, after browsing, I wound up in the shoe section (a girl can never have too many pairs of shoes, right?) and followed that up with a trip to the jewelry counter. Here's what I bought: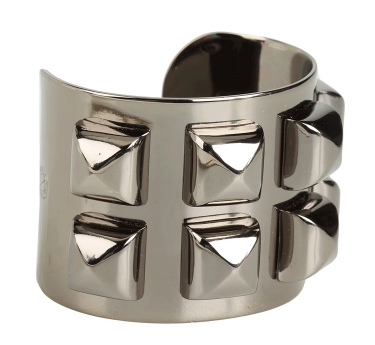 Chunky jewelry never gets old for me and while I wait patiently until I can afford this, this Vince Camuto Studded Cuff Bracelet ($85) suits me (and my wallet) just fine.
I have been eying these Steven by Steve Madden 'Madee' Slip-On leopard Loafers (marked down to $99.99) for a while and couldn't justify buying yet another pair of leopard print shoes, but since they were on sale and I had a gift card, they came home with me!
The accessories won. But rest assured that I'll be heeding Suze's advice and heading back to Lord & Taylor the next time I need a dress. And with my full calendar of ongoing fashion events, it's bound to happen soon!
Special thanks to Lucky Magazine and Lord & Taylor for hosting this event!