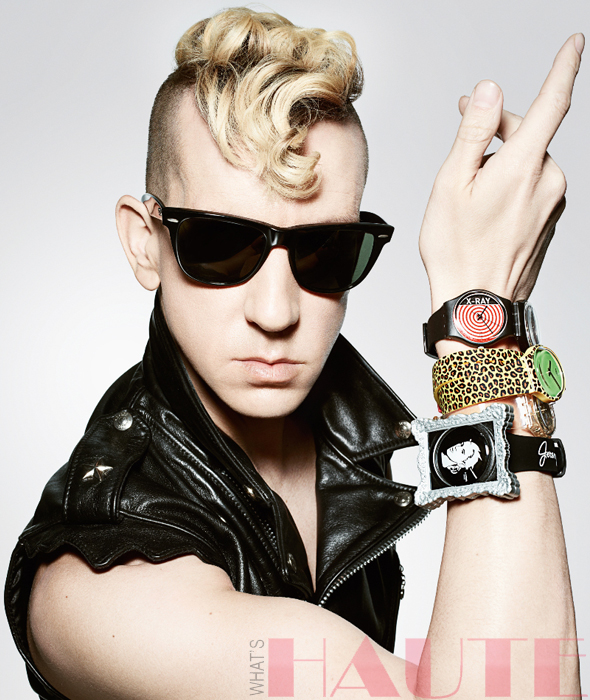 To us, Jeremy Scott is the Salvador Dali of the fashion world. His bold designs are so cheeky, amazingly artistic and in your face and we can't stop wanting everything he creates. His latest collaboration with Swatch features watches we think might inspire the artist himself. The five-piece collection debuts on Oct. 1 and we're alerting you now to get your credit cards ready. The watches each have Jeremy Scott's signature quirky stamp on them – leopard print, funky bright colors, a watch with two faces, one with a portrait of the designer's face and a heart-shaped stopwatch. Read more about each of the watches below: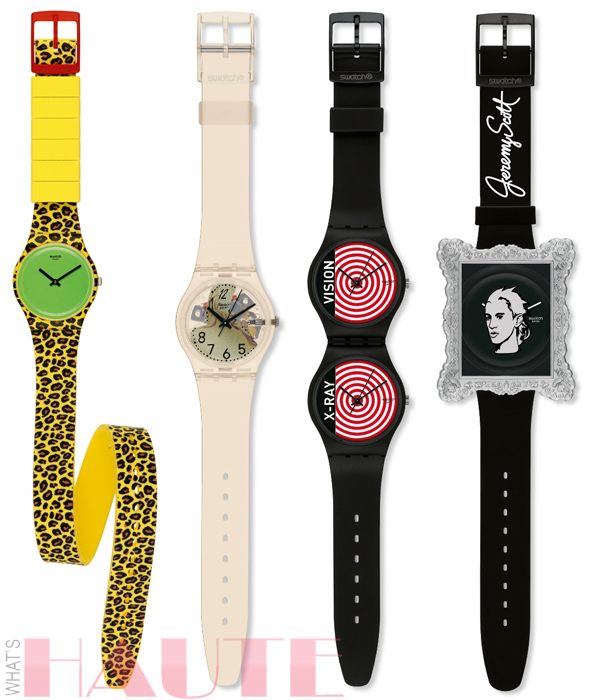 The Melted Minutes watch features a transparent plastic dial, created with an amusing 'melted' visual effect. Its quirky appearance makes it a must for anyone whom likes to take a slightly surreal approach to time-keeping.

The Swatch Portrait watch plays host to a solid black plastic dial adorned with a stylized sketch of Jeremy Scott printed upon the glass. A stunning silver picture frame case guard further indicates the distinctive and desirable nature of this timepiece.

The Swatch Punk watch boasts an in-your-face solid green dial with black hands and is contrasted by silicone strap with printed leopard patterns and six bold yellow loops, which wraps twice around the wrist. Leopard patterns also feature on the plastic case for the watch, in order to make a truly fierce fashion statement.

The Double Vision Swatch offers twice the amount of fun. Boasting two red and white twirl-effect dials fixed on one black plastic strap – with the words 'Xray Vision' printed above them – this design is destined to keep everyone's eyes firmly focused upon it. The Double Vision Swatch comes specially packaged with distinctive double watch cases, upon which 'Xray Vision' is boldly emblazoned.

The Hypnotic Heart watch creates a huge impact not only due to its attention-grabbing heart shape and its size – the special edition piece is a generous 12cm wide – but also the various other details which make it so unique. For example, the black silk entwining necklace from which it stylishly hangs. Not to mention the vibrant red and white twirl-effect dial and roman numerals which, when combined with another continuous seconds counter within the main design, produces a striking effect. This is a special edition, limited to only 777 pieces.
Visit Swatch.com for more info on the collection.