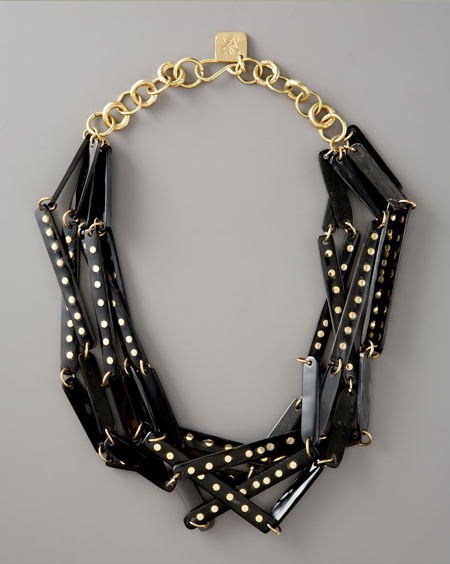 We appreciate accessories with a story behind the design. Ashley Pittman jewelry represents the craftsmanship of Kenyan artisans, and the use of indigenous materials such as natural horn carved by a woman's cooperative, along with bronze and fair-trade semi-precious stones mined in East Africa. The Kidogo Studded-Horn Necklace is edgy yet understated with its rich dark horn bar-beads and hand-inlaid bronze  resembling studs. It's a versatile statement jewelry piece that can be worn season after season.
The Ashley Pittman Collection donates 10% of all sales to the Ashley Pittman Foundation to help fund the Kathiani Primary School in Kamboo, and the Kamboo Dispensary, a rural health clinic that will serve over 4000 people who have no access to basic health care.
Buy the Ashley Pittman Kidogo Studded-Horn Necklace for $595 at Bergdorf Goodman.