Haute Girl: Lia
Where we spotted her: Chelsea
Where she's from: California
Occupation: Business Development at Glam Media
Style summary: Eclectic
When we spotted Lia, she was busy chatting away on her phone, but we just HAD to interrupt her to learn where she got her fab, airy print caftan dress. We were instantly drawn to her boho-glam, California cool style and knew we had to stop her and snap her right away! She let us know that the sheer, belted dress was from Anthropologie, which she paired with a lacy black slip from Forever 21. Lia accessorized with a convertible black Kooba shoulder bag, several short gold necklaces plus a long gold and gemstone pendant, and chic black high-heeled sandals. It's the perfect end-of-summer look for the office, especially when you work for a fashion-forward media & tech company like Glam (What's Haute is part of their blog network)! Add her messy bun, fresh-faced makeup and hot pink nail polish and Lia's entire look is effortlessly chic!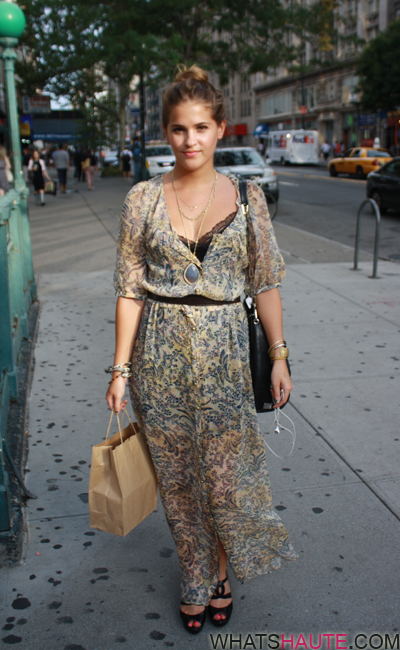 Shop Lia's look, below:

1. Free People Rita Cummerbund Belt, $198, Free People
2. Heather Benjamin Ocean Jasper Necklace, $798, Anthropologie
3. Prada black suede top stitched strappy platform sandals, $636, Bluefly
4. Lovers + Friends Chiffon Python Maxi Dress, $159, Urban Outfitters
5. Kooba Jude Shoulder Bag
, $375, Zappos.com
(Not pictured) Free People black racerback woven lace trim slip, $47, Bluefly
Think you've got haute style? Share it with us! Girls and guys – send images of your haute looks to style [at] whatshaute.com or tweet us at @WhatsHaute!