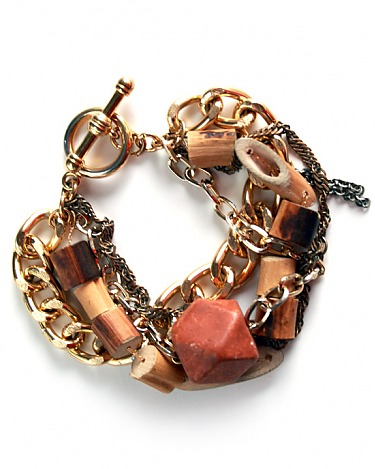 When it comes to jewelry, we're constantly scouring stores and the web for the perfect statement necklace. But bracelets are also a key piece that shouldn't be overlooked. We came across this vintage Adobe Bracelet by Dirty Librarian Chains that makes a strong statement on its own. This 7 inch long* bracelet is made with a mixture of intertwined chains, and multi-sized vintage bamboo and clay beads rescued from a closed jewelry factory from the 1970's. There are small tassels throughout, and it has a toggle clasp that keeps it securely on your wrist, where other jewelry-nistas can ooh and ahh at the modern beauty of this 'restored' piece.
* To request a different size, email orders at dirtylibrarianchains.com.
On sale now for $90 at dlcbrooklyn.com.
Purchase $50 for $100 toward any purchase online at Dirty Librarian Chains today on ideeli!