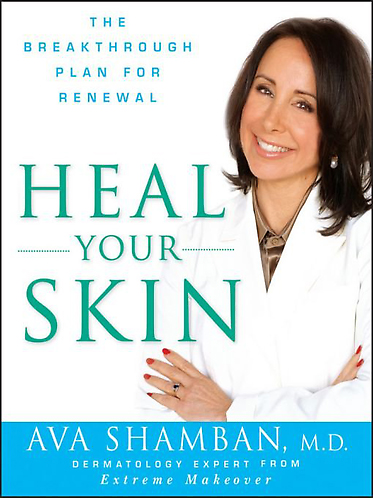 Looking for a great summer read to pack in your beach bag? How about an informative, easy-to-read book about caring for your skin? I have been reading "Heal Your Skin: The Breakthrough Plan for Renewal
", by Dr. Ava Shamban, and I can't put it down! Dr. Shamban is the founder and director of the AVA MD Laser Institute for Dermatology and the Recovery Skin Care Clinic. She was also the featured dermatologist on "Extreme Makeover" on ABC.
This book explains how your skin works, the best skincare plans for your issues, everyday basics, and healthy nutrition for your skin. There are chapters devoted to specific topics such as your caring for your skin during pregnancy, menopause, adult acne breakouts and during treatment for cancer. The book also includes a section devoted to exercise that will help restore your skin and my favorite part; a section filled with skincare recipes that you can make in your own kitchen. So far I have made the yogurt cleanser and the citrus toner and both have fared well on my combination, acne-prone skin. If you are seriously not happy with the current state of your skin, or you just want to enjoy what Dr. Shamban has to offer, I really encourage you to grab this book on Amazon.com
and enjoy it this summer.