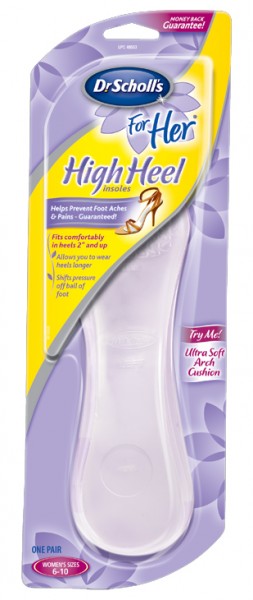 Navigating the streets of Manhattan can be tricky, particularly in the summertime. And especially when you're wearing 4-inch sandals. Yes, flats are an option, but who wants to wear those when you've got a closet full of stunning stilettos? Ok, realistically, our feet are not strapped in stiletto heels all the time, but when we DO wear them, making them as comfortable as possible is absolutely necessary. And that's where Dr. Scholl's comes in.
We've long been wearing Dr. Scholl's products (remember the Dr. Scholl's Classic Wood Clogs
from the 70's)? Well our footwear choices have evolved since then but Dr. Scholl's is still our go-to for foot comfort. Now we use Dr. Scholl's® For Her High Heel Insoles
. They make strutting in stiletto sandals so much easier! They're designed especially for high heels 2″ and over and are made of a soft, massaging gel cushion. Plus the slim and transparent design allows them to fit perfectly and discreetly into the soles of our most uncomfortable shoes. They're guaranteed to maintain comfort all day long and we've road tested them (literally!), and we'd have to agree!
Buy for $8.13 at Amazon.com