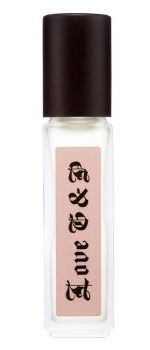 A recent trip to Sephora for spray tan (cue the Jersey Shore theme song) resulted in love at first scent. Waiting in line we were instantly smitten with the smell of Love G&P by Juicy Couture
. This limited-edition perfume was one impulse buy we just couldn't resist. The fresh and sweet scent features fruity and flowery notes of Watermelon, Mandarin, Pink Passion Fruit, Marigold, Green Apple, Water Hyacinth, Crushed Leaves, Tuberose Absolute, Wild Rose, Princess Lily, Tuberose, Caramel Créme Brule, Vanilla, Precious Woods, Patchouli. Imagine all of that packed into one miniature rollerball bottle.
Can love be packaged into a small bottle? We say yes.
Buy Love G&P Juicy Couture Eau de Parfum Roll-On 0.25 oz Eau de Parfum Roll-On
for $18 at Sephora.com
.