Brenda Novak may be well-known as a New York Times best-selling author but she's also highly devoted to finding a cure for diabetes. She started Brenda Novak's Annual Auction for the Cure of Diabetes, in support of her son and all other diabetes sufferers. The organization has raised over a million dollars for diabetes research in recent years, and this year, the money from her auction will be donated to The Diabetes Research Institute at the University of Miami. By bidding in the auction, you will be supporting the cause, as well as winning some unique items.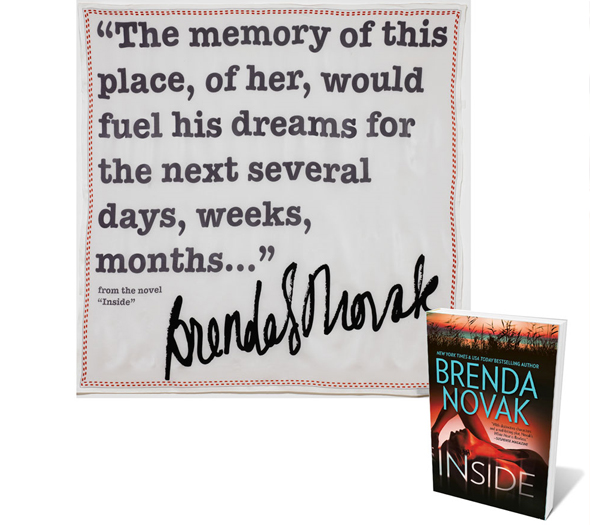 One of the items up for sale is Novak's limited-edition silk scarf, designed by Brooklyn-based accessory brand Hayden-Harnett. The scarf measures 40″ x 40″ and features a romantic passage from INSIDE, Brenda's new book (in stores on June 28). The passage reads: "The memory of this place, of her, would fuel his dreams for the next several days, weeks, months…" In a black, white and red print, the scarf is pretty unique and has already sold out on most of the Gilt City sites! To snag one, plus an autographed copy of INSIDE to come with it, you can place a bid on Brenda Novak's site, but the author also has partnered with What's Haute to give away one scarf and book to one lucky reader!


For the giveaway, one lucky reader (U.S. residents only) will be the winner of the limited-edition silk scarf and autographed copy of the INSIDE book. The giveaway ends May 31 at 11:59pm EST. In order to enter to win all you have to do is leave a comment below letting us know why you want this scarf/book set! (Be creative!)
For additional entries:
One winner will be randomly selected on or around June 1, 2011. Winner will be notified via email or message on Facebook/Twitter. Winner must respond within 48 hours or an alternate winner will be chosen.
Special thanks to Brenda Novak and Pierce Mattie for the giveaway!
About The Diabetes Research Institute (DRI)
The Diabetes Research Institute (DRI) is a recognized world leader in cure-focused research. Since its inception in the early 1970s, the DRI has made significant contributions to the field of diabetes research, pioneering many of the techniques used in islet cell transplantation. From innovations in islet isolation and transplant procedures to advances in cell biology and immunology, the Diabetes Research Institute is now harnessing the power of emerging technologies to develop new cell-based therapies to restore insulin production.