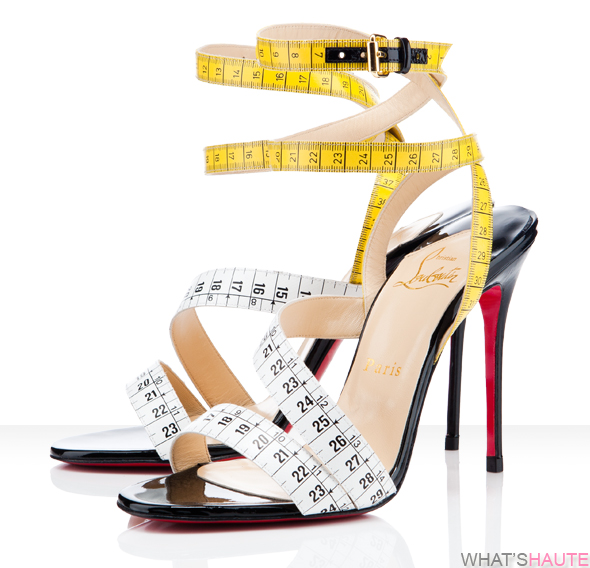 We're not sure if Mssr. Louboutin is just being cheeky or if he's gained so much popularity among the fashion elite that he can design pretty much anything (and we fashionistas will totally buy it). Either way, we have to say we were surprised to see these Christian Louboutin "Police" Measuring Tape Sandals, and even more surprised that after our initial shock there was awe and then the thought "Hmmm, those might be cute with (choice of outfit here)." Neiman's description of these black, yellow and white pop-art sandals is that they're "dramatic enough for special evening events, but we think it pairs especially well with slim, cropped pants." We're not sure about either – perhaps jeans or leggings? We can't picture any sort of measuring tape being worn on the red carpet, at an evening event or otherwise, unless of course your name is Lady ("push the envelope") Gaga.
Christian Louboutin "Police" Sandals feature:
• Calfskin 'measuring tape' straps
• Crisscross halter ankle wrap with adjustable gold buckle
• 4″ covered heel
• Signature red sole.
• Leather lining and padded insole
Would you wear? Do you think they're haute or not?