UPDATE: Congrats to @mamavalveeta03 on winning the complete regimen of skincare products from Specific Beauty! Thanks to all who participated in the giveaway!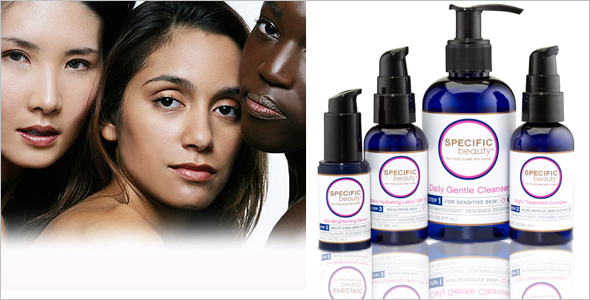 Women with multi-hued skin tones have long searched for skincare products that were designed just for them. Over the years, there have been strides in cosmetics and skincare, but women with melanin rich skin are always on the hunt for that perfect products that meet their skincare needs!
Enter Specific Beauty.
Specific Beauty is a new skin care line especially made for multi-hued skin tones, developed, designed and tested by nationally recognized dermatologist Dr. Heather Woolery-Lloyd. Dr. Woolery-Lloyd has over 10 years experience in treating women with multiple skin tones, including tan, olive and brown skin, and conducting research on developing effective treatments for the cosmetic concerns of women with multi-hued skin tones. The products, which are made in the USA, contain natural ingredients like Licorice and Ginger Root Extract and are fragrance and/or paraben free.
The Specific Beauty line consists of a simple regimen of products that use skin brightening technology to even skin tone, resulting in a more even skin tone, improved skin texture and hydrated, brighter and more radiant skin. Who doesn't want that?
The giveaway:
We've partnered with Specific Beauty to give one lucky reader the following products: Specific Beauty Daily Gentle Cleanser, Skin Brightening Serum, Daily Hydrating Lotion | SPF 30, and the Night Treatment Complex. Product details are below, and you can learn more at Specific Beauty.com.
To enter:
Tweet the following phrase: "I want a @SpecificBeauty skincare regimen! RT + follow @WhatsHaute and @SpecificBeauty to enter the giveaway! http://bit.ly/eRdPtg"
You must be following both @WhatsHaute and @SpecificBeauty to be eligible to win. Contest ends Friday, March 18, 2011 at 11:59 PM EST. Winner will be randomly chosen and notified via direct message on Twitter. Tweet as many times as you'd like! Good luck!
Specific Beauty products include:
Daily Gentle Cleanser
An ultra-gentle cleanser, good for all skin types, and ideal for sensitive skin. Thoroughly cleanses while leaving the skin feeling soft and moist, not dry and tight. Paraben and fragrance free.
Skin Brightening Serum
is the latest in skin brightening products. This breakthrough formula contains a specialty, multi-benefit complex of Licorice, Antioxidants, and Retinol to treat dark spots and uneven skin tone. With continued use, this formula is beneficial for skin brightening, leaving the skin looking healthier and more radiant while enhancing your skin's natural complexion. Paraben and fragrance free.
Daily Hydrating Lotion | SPF 30
A dermatologist designed moisturizer with SPF 30 providing broad spectrum daily protection against UVA and UVB rays. The powerful antioxidant Vitamin E acts a free radical scavenger to protect the skin. The Licorice and Emblica, a unique, natural fruit extract, work together to help even skin tone. Paraben and fragrance free.
Night Treatment Complex
A lightweight, yet efficacious, night treatment that helps improve skin texture by delivering a dose of retinol to the skin while you sleep. Licorice, known for its skin brightening properties, will help to even out skin tone. Vitamin E, a powerful antioxidant, protects skin. Paraben and fragrance free.