When it comes to the Kardashian clan, we've learned to adopt the mantra "if you can't beat 'em, join 'em." Everywhere you go, there they are. These girls are into everything, and with a hard-working momager like Kris Jenner, they'll probably continue their meteoric rise, whether you like it or not. So we've decided to embrace their reality TV, entertainment and business endeavors.
The (arguably) most famous of the three, Kim, recently launched her jewelry line, Belle Noel. And while we're sick and tired of hearing about this celebrity and that one launching some sort of new fashion line, we were pleasantly surprised to see how chic the pieces look. The collection consists of bracelets, earrings, necklaces and rings that are glam, naturally, and have a touch of mod undertones with a vintage vibe. Our favorite pieces include the Nugget Stud Earrings
– ivory epoxy square studs with a 14kt yellow gold plated nugget center ($13); the Dagger Pendant in Gold Pave
($63); the Resin Stone & Pave Cocktail Ring ($38); the Thick Honey Hexagon Cuff
– 14 kt yellow gold and black resin cuff with a hinge closure, and chain detail ($78); Dagger Glam Rock Bracelet in Silver
and the Honey Hexagon and Leather Necklace
– a gold chain with black leather and a removable hexagon crystal pave charm ($95).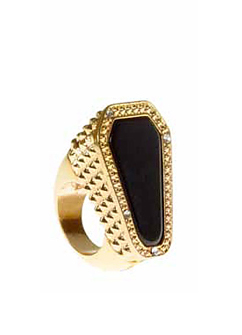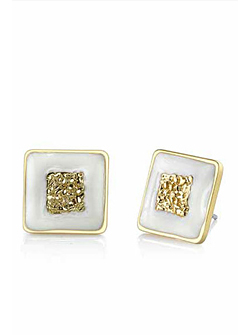 Kim stated: "It's been a dream of mine for a long time to have my own jewelry collection, so it was such an amazing opportunity and experience to sit down and create designs that I feel reflect my personal style, and a collection that is also varied and offers a little something for everyone. You guys know I love my statement jewelry pieces, so I wanted to create pieces that really stand out and make a statement, but most importantly, I wanted to make them affordable for everyone!"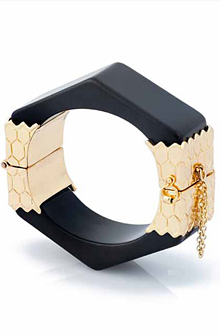 We hate to admit it, but Kim's jewelry collection is pretty nice. And the prices are too. Will you be buying any of the pieces?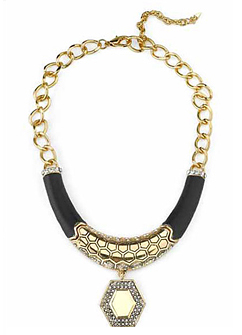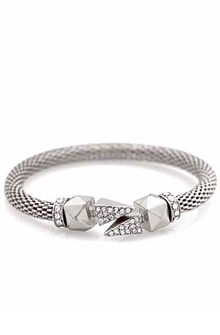 Buy Belle Noel jewelry at Pink Mascara
Get more What's Haute – Follow us on Twitter and 'Like' us on Facebook!