This month, we're featuring some of our favorite designers, the people behind our most-loved fashion and beauty brands, and fashion bloggers, and what's haute on their holiday gift wish lists! We've shopped their sites, bought their products, read their thoughts – now we get inside their heads to find out what they want this holiday season! Tricialee Riley is the founder of The Polish Bar of Brooklyn. The Polish Bar of Brooklyn is a beauty lover's haven! It's a place to get pretty, polished and perfect, with services including brow shaping, makeup application and lash services and of course, manicures and pedicures! Private parties are welcome too.
Tricialee shared the beauty products that made her holiday wish list! Check them out, below: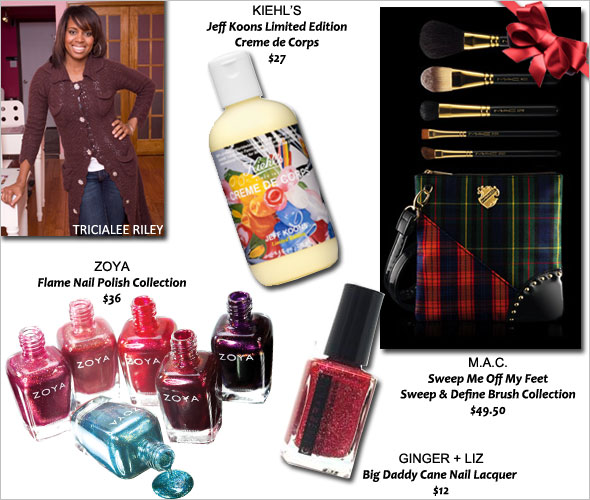 Zoya Flame Collection Sampler, $36 – "The collection shimmers in every shade. I love this for myself and my polish addicts."
Jeff Koons Limited Edition Creme de Corps, $27
Ginger + Liz "Big Daddy Cane" limited-edition nail polish, $12
M.A.C. Sweep Me Off My Feet Sweep & Define Brush Collection, $49.50 – "It's the best deal on real makeup brushes that always have a fashionable carrying case."
About the Polish Bar of Brooklyn
Tricialee, lover of all things beauty, is a self-confessed beauty junkie. She took her love of beauty products and worked for various cosmetic companies while attending college. She then moved to New York City to work for M.A.C. Cosmetics. She later worked for Shu Uemura and Trish McEvoy. Tricialee incorporated her knowledge of beauty, customer service, sales and business management and opened her Brooklyn-based beauty bar, Polish Bar of Brooklyn. There, Tricialee works with clients performing brow shaping, makeup application and lash services and also offers nail and waxing services, along with hosting private parties. For more on makeup products, fragrances, skincare, haircare and application techniques, check out PolishBarBrooklyn.com.
Get more What's Haute – Follow us on Twitter and 'Like' us on Facebook!