This month, we're featuring some of our favorite designers, the people behind our most-loved brands, and fashion bloggers, and what's haute on their holiday gift wish lists! We've shopped their sites, bought their products, read their thoughts – now we get inside their heads to find out what they want this holiday season!
Melanie Moore is the co-founder of ToVieFor. Part shopping, part game, ToVieFor let's you bid on the current season's hottest accessories, from handbags to jewelry and scarves!
Melanie shared her holiday wish list with us! Check out the fab accessories and haute couture fashion on her list, below: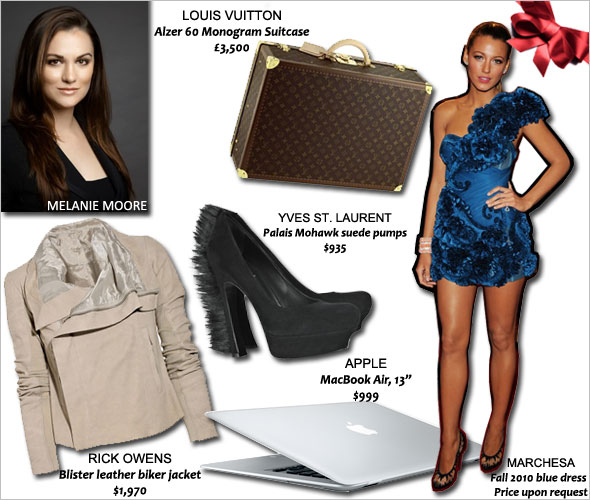 Rick Owens Blister leather biker jacket, $1,970 – "It's just beautiful."
Louis Vuitton Alzer 60 monogram canvas suitcase, £3,500 – "It's such a classic, and has been, and will continue to stay, on my wish list!"
Yves Saint Laurent Palais Mohawk suede pumps, $935 – "They're sick!"
MacBook Air 13″, $999 – "To appease my inner nerd who always wants the latest gadget…"
Marchesa Fall 2010 blue one shoulder dress (worn by Blake Lively at the 2010 Met Costume Institute Gala, Price upon request – "Love, love, love this dress, however it probably costs like $5 grand, so it's staying on the "wish list"!"
About ToVieFor
ToVieFor is a fashion website like you've never experienced before. We've all experienced fashion websites where they promise discounts on designer merch, but then you realize all the good stuff is sold out and the leftovers are 3 seasons old!
ToVieFor conquers both of these criticisms by allowing you to play-to-win the latest and most coveted designer merchandise at a discount.
They say life is a game. Well, finally ToVieFor gives us a chance to not only win it, but look damn good when we do it too. Who needs a Fairy Godmother when you have ToVieFor?
Get more What's Haute – Follow us on Twitter and 'Like' us on Facebook!