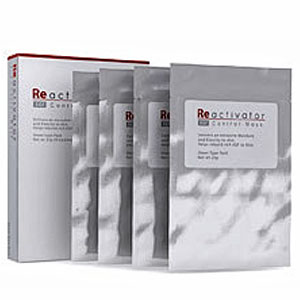 What can I say – I'm on a skincare kick lately and keep finding these great products that I want to share with you. I've been excited to tell you about another great EGF product I've been using. In the past, I mentioned the EGF Reactivator skincare, namely the serum. These EGF products help to rebuild the Epidermis Growth Factor, a human polypeptide that encourages the increase of collagen and therefore rejuvenates the skin, fights wrinkles and even heals scars.
I started using the EGF Reactivator Control Masks a few times a month and have noticed wonderful results. These masks are designed to give you intensive treatment in a short amount of time. The masks feel wonderful on your skin; they fit snugly and leave your skin very soft and smooth. Repeated use has proved to intensify the results. I noticed a smoother texture to my skin instantly. Over time, I noticed a lot of imperfections have lightened up as well.
If your skin is feeling the harsh effects of cold winter air and indoor heat, these masks would be a great way for you to treat your skin to some much-needed moisture. The ingredients also promote brightening and firmness in your skin. And all you need to do is relax for 15-20 minutes with the mask on your face.  Results are instant and your skin will feel great all winter long.
Click here to purchase the EGF Reactivator Control Mask online.