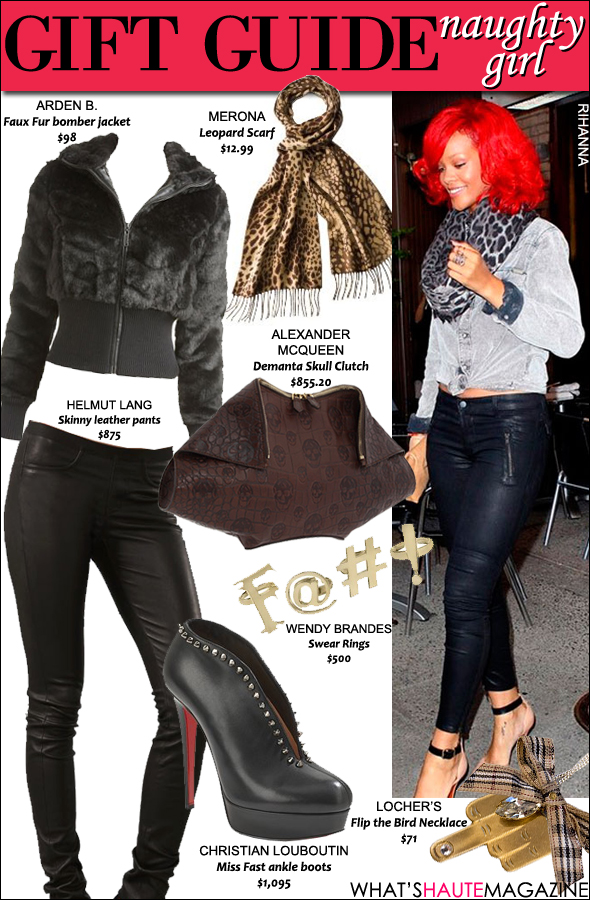 Have you been a Naughty Girl this year? Don't worry – there won't be any lumps of coal left in your stocking. Like our muse, Rihanna, a Naughty Girl is simply a good girl gone bad. But not in the normal sense of the word 'bad'. Our Naughty Girls just want to have fun and spice things up a bit. And that includes their fashion sense. They're risk-takers, trendsetters and on to the next 'It' thing before most of us have had a chance to adopt the previous one. They shock us and awe us, and we can't wait to see what they do, or wear next. They've got an exterior as tough as the stilettos they walk in. But don't worry, inside every Naughty Girl is just a Nice Girl in hiding…
Check out some perfect holiday gift picks to buy for every Naughty Girl you know:
Arden B. Faux Fur Bomber Jacket, $98
Faux real, or not? You'd better not ask and she might not tell, but the Naughty Girl isn't scared to wear this Arden B. faux fur vest, as it adds a touch of glam to her look.
Helmut Lang Skinny Leather Pants
, $875
Every badass Naughty Girl owns a pair of sexy leather pants. The skinnier – like these Helmut Lang's – the better.
Merona Tan Leopard Jacquard Scarf, $12.99
Scarves are always in-season but the Naughty Girl prefers to wear what's on-trend too – animal prints – like this leopard print scarf by Merona.
Alexander McQueen De-manta Skull Clutch
, $855.20
The Naughty Girl doesn't have time for big bags. An Alexander McQueen skull clutch is all she needs to hold her Naughty essentials – keys, phone, gum…and you can guess the rest.
Wendy Brandes Swear Rings, $500
The Naughty Girl doesn't speak much so her jewelry speaks for her. If you make her mad, she'll give you a four-fingered message, with these Wendy Brandes rings.
Christian Louboutin Miss Fast Ankle Boots
, $1,095
These tough-as-nails Christian Louboutin boots work perfectly for the Naughty Girl, both night and day.
Locher's Paris Flip the Bird Necklace, $71
You'll get the message loud and clear, that the Naughty Girl is not one to be messed with. But the message is delivered in the sweetest of ways – on a chic Locher's Paris necklace.