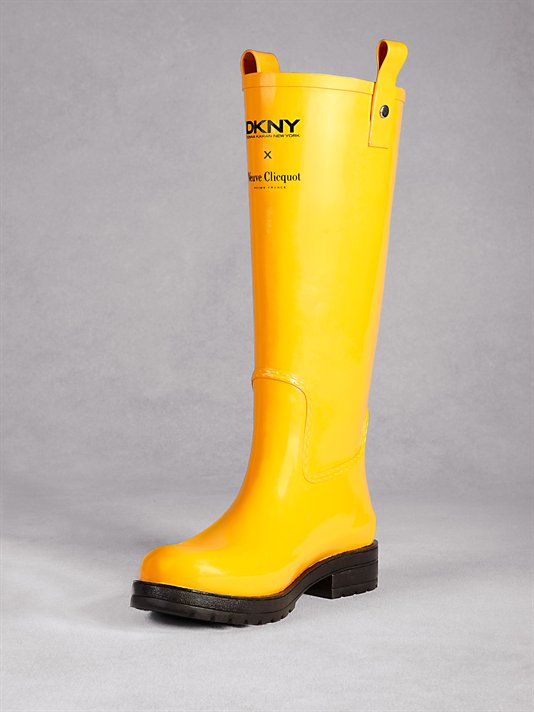 To me, the best things about winter ski trips are the ski fashion, and relaxing with drinks in the lodge. Going skiing is the perfect excuse to sit inside sipping tasty cocoa or bubbly, or hit the slopes donning cutesy trapper hats, chic snow jackets and glasses and the cutest winter boots. So this partnership is particularly sweet. To celebrate Clicquot in the Snow (Veuve Clicquot's annual celebration of winter), the champagne brand has partnered with DKNY to create a limited-edition rubber snow boot. This bright boot comes in Veuve Clicquot's signature yellow color, and adds a little ray of sunshine on snowy (or rainy) days.
Grab your champagne glasses, along with a pair or two of these DKNY for Clicquot in the Snow boots! They retail for $98 and are available at DKNY.com, DKNY Madison Avenue, DKNY Soho and DKNY in London.
About Clicquot in the Snow:
Clicquot in the Snow is a winter-long initiative that celebrates the international tradition of toasting a great day on the slopes with champagne during après ski. This winter, Clicquot in the Snow will be celebrated in both ski and urban snowy locations nationwide, with champagne specials and tastings, exclusive fêtes and charity events such as February's Veuve Clicquot Tube-a-thon in Vail.
Get more What's Haute – Follow us on Twitter and 'Like' us on Facebook!