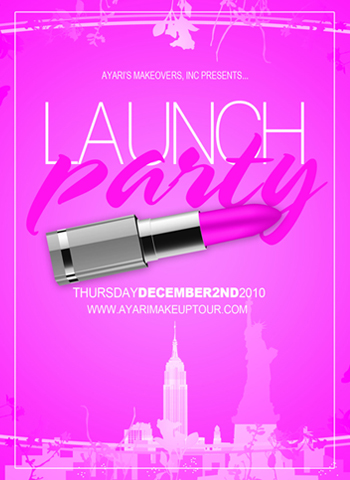 Just in time for the holidays comes a chance for you to get pretty and pampered by premier skincare and makeup professionals! Hosted by Ayari, a certified professional makeup artist, the Ayari Makeup Tour Launch Party is an exclusive beauty event that will be held on Dec. 2, 2010 at 6:00pm at Pearl NY Lounge in Chelsea.
Sponsored by Nuvo Sparkling Liqueur and Loca Entertainment, the party is the official launch for Ayari's Makeup Tour (AMT). AMT is a multi-city East Coast-based tour educating women in a workshop setting. Ayari found the need to educate real women on skincare regimens and makeup application techniques and now today targets a larger market of career women who will learn everything from how to care for their skin to looking red-carpet ready!
What: Launch Party commencing Ayari's Makeup Tour (AMT).
When: December 2, 2010 at 6:00pm
Where: Pearl NY Lounge, 115 8th Avenue, New York, NY
Why: For only $30, you'll receive manicures, mini makeovers, massages, henna treatments, plus hors d'oeuvres and two drink tickets. VIP ticket holders will receive all of the above, plus lash extensions, brow waxing or threading too!
AMT partnered with Remo Production, Inc., an event planning and production
company, to kick-off this exclusive beauty event, consisting of the following services:
Massages by Sarah Jayne Solutions
Massage Therapy by Chrissy
Makeovers by the Ayari's Makeovers Team exclusively using Artistry Products provided
by Santana Enterprises – #1 in health and beauty internet sales for the past 7 consecutive years
Manicures provided by Blush Nail Lounge and Envie Bath and Body
Lash extensions provided by JJ Lash Extensions
Brow Shaping and Henna provided by Quick Brows Zone
Desserts and Pastries by The Cake Monologues
Hors D'ourves by La Cocina Taina
Specialty Drinks provided by Nuvo, Vitamin Water, and Smart Water
Purchase tickets in advance at www.AyariMakeupTour.com.
For more information on Ayari, the founder of Ayari's Makeup Tour and Ayari's Brides, a full service bridal makeup and hair team, please visit www.AyariMakeOvers.com.