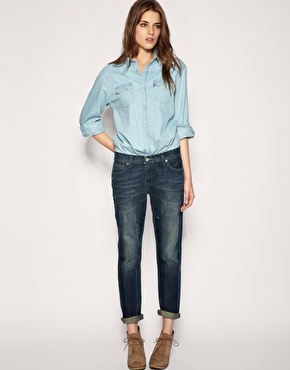 Forget the rompers that made a big comeback this sumer.
ASOS.com is offering up a one-piece cotton and denim version of an adult onesie. That's right – a onesie.
The Levi's Double Denim Onesie is basically an oxford shirt tucked into (or rather, attached to) a pair of boyfriend jeans. In theory, it's not a bad idea. It already has that relaxed, slouchy look that most women are trying to achieve anyway, when wearing an oxford shirt and boyfriend jeans. But the fact that the two are attached just seems wrong somehow. It's almost like wearing footie pajamas, but as an adult. And outside of the house.
If you can get over the fact that your shirt is sewn to your pants (and the fact that you may have to disrobe in order to use the restroom), get one from ASOS.com for £115.