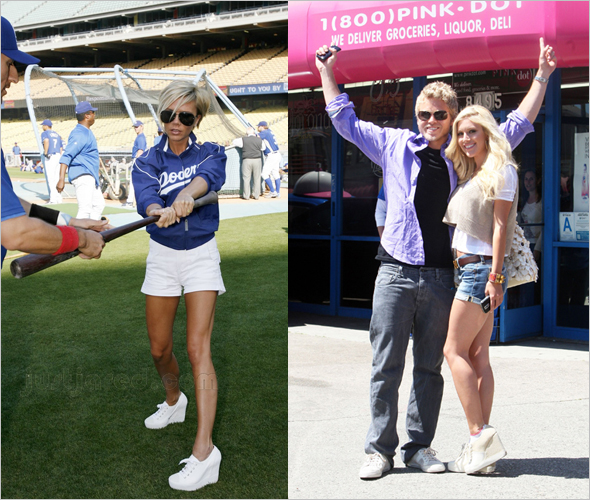 We love Victoria Beckham but we weren't sold on those white wedge sneakers she wore to throw the first pitch at a Los Angeles Dodgers game. And we balked when Heidi Montag wore a smilar pair of the wedge sneakers last year. And they were so 15 years ago! (And Heidi – so 15 minutes ago…but we digress.)


This year, several shoe brands are offering a sneaker/wedge/bootie hybrid that's not at all bad. In fact, they're pretty darn cute. They have mostly the same features – rubber wedge heel and toe, multiple buckled straps and a sneaker/bootie look.
We found two by Ash and one by Spring Shoes (sister to Aldo), that look a lot alike, are covet-worthy but have varying price tags. The Gandolfi by Spring Shoes is made of a synthetic upper with a 1.5 to 2.5 in. heel, retails for $49.99, and comes in black as well as a khaki fabric version. The Ash Thelma Wedge Sneakers
retail for $200 and are made of leather, feature buckled straps and a distressed, contrast rubber toe, with a 4″ wedge heel. The Ash Madonna Wedge Sneakers
are also made of leather, and feature buckled straps with black stud detail, and an exposed inside zip. They also have a 4″ wedge heel and go for $240. Both Ash shoes are available on shopbop.com
.
We ask: which one would you buy and wear? Do you think these are better than the wedge sneakers worn by Heidi and Victoria? And who do you think did the sneaker/wedge/bootie best?
Images: Just Jared and Glamour.com