Isabel Toledo for Payless High Ghillie
Isabel Toledo became a household name when she dressed Michelle Obama on Inauguration Day. And now, fresh off of her collaboration with Target with husband Ruben, she just launched her Fall footwear line with Payless ShoeSource©
. Payless first joined the ranks of mass market retailers who collaborate with popular designers, several years ago with brands like Abaete, Lela Rose, Christian Siriano and now Toledo.
The Isabel Toledo for Payless
collection is currently available in stores and online with three handbag styles soon to follow. The shoes consist of seven styles and were inspired by the designer's life in New York. She thought of what shoes she would need and stuck to chose black, red and silver as the color palette. Prices range from $35 to $60.
The styles range from lug sole booties, laced-up flats, a satin peep toe pump and a furry stiletto boot. We're loving the 'Sliver' bootie and 'Toreador' pump – perfect for holiday parties.
Toledo says: "This is heaven-sent because all of a sudden I am going to create work that is going to get out there on a mass level," Toledo said. "As a designer that is your goal, to communicate to the public and having someone wear my work, to see my work on someone else is very exciting. It's what you work for."
Which ones catch your eye? Will you be buying?
Isabel Toledo for Payless Front Fold Bootie

Isabel Toledo for Payless Pom Pom Flat
Isabel Toledo for Payless Metallic Ghillie Flat

Isabel Toledo for Payless Sliver Bootie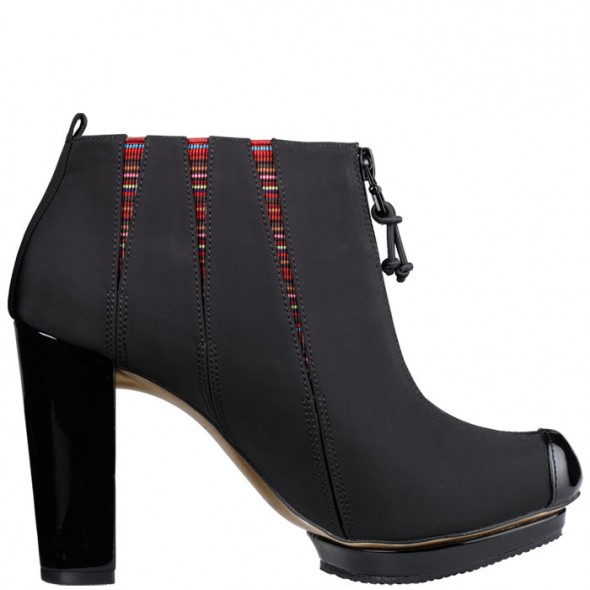 Isabel Toledo for Payless Toreador Pump