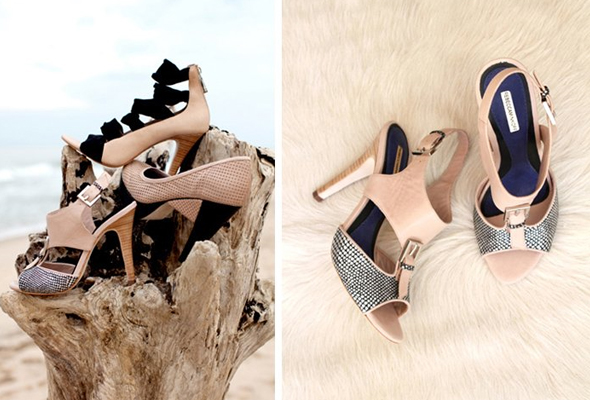 (Left) A shot from the Spring 2011 campaign. (Right) The Brooke sandal in Nude and Metallic Silver Snake leather.
It was only a matter of time that Rebecca Minkoff announced her own line of footwear. Die-hard RM fans and accessory addicts know it's time to rejoice! We've only seen a few of the 25-style shoe collection but what we've seen so far has us whipping out our credit cards, ready to pre-order. We love the color palette, the vintage vibe and her signature leather detailing, called the "MAB flap" (named after her Morning After Bag). The shoes will debut at her RTW Spring 2011 Fashion Week presentation in New York and the line will be sold in the Spring starting at $160-$395.
Rebecca Minkoff said: "I've always been obsessed with shoes. I've been wanting to do this for three years, but I wanted to wait until it felt right."
It looks right to us! What do you think of the collection? Which pair(s) will you be buying?
Images from Rebecca Minkoff