Last Wednesday, I spent the afternoon feeling much like one of the Real Housewives of New York. Cocktails, lunch and chatting with the most fashionable set of ladies on the open rooftop of the Gramercy Park Hotel – sounds just like the TV show, right? Actually it was a blogger/editor luncheon hosted by Aveeno.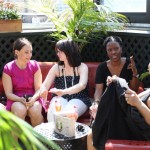 In between cocktail sipping, hors d'oeuvres tasting and celebrity gossip sharing, we got the chance to check out the new daytime and nighttime Aveeno Ageless Vitality products. These elasticity recharging systems are designed to activate essential elastin in your skin, restoring skin vitality while increasing firmness and smoother skin, and reducing the overall appearance of wrinkles and age spots. In addition, the products contain SPF 30 to protect your skin from sun damage.
Over lunch, we got an added treat – the chance to chat with the actual scientist, Amy, who developed the products! Amy shared with us the process behind making the products, the use of natural ingredients (blackberry leaf extract and dill) in these products, myths about phtalates and parabens (which are NOT found in these products), and about her many patents and cool job at Johnson & Johnson!
Check out the Aveeno Ageless Vitality Collection
and be on your way to healthier, more youthful skin!